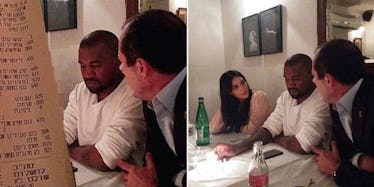 Israeli Website Censors Kim K's Existence Because She's 'Pornographic'
An ultra-Orthodox Jewish news site made it seem as if Kim Kardashian doesn't exist.
Kim and Kanye have been traveling around Israel, and while there, they had a meal with the mayor of Jerusalem, Nir Barkat.
Barkat posted a photo of himself and Kimye to his Facebook page.
However, when the news site Kikar HaShabbat posted the photo, it covered up Kim's image with a photo of a receipt.
Nissim Ben Haim, an editor at the Kikar HaShabbat website, said this was done because Kim is supposedly a "pornographic symbol" who stands in defiance of ultra-Orthodox Jewish values.
The website also refused to refer to Kim by name. Instead, it opted to call her "Kanye's wife."
It's too bad we can't just cover Kim K with a receipt whenever we want.
Here is the censored photo:
And here is the original:
Citations: Israeli Newspaper Blocks Out Kim Kardashians Existence Because Shes Pornographic (Complex)