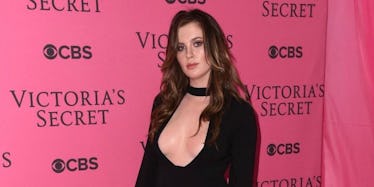 Ireland Baldwin Shows Off Bare Butt In Nude Photo Shoot On The Beach
REX/Shutterstock
It's only the first day of March, but model Ireland Baldwin has us dreaming of white sand, blue waters and Mai Tais thanks to her extremely sexual beach photo shoot.
Baldwin, who has hundreds of thousands of followers on Instagram, recently stripped down and showed off her bare butt for a completely nude photo shoot on the beach, and let me tell you, the pictures are hot AF!
The 21-year-old daughter of Kim Basinger and Alec Baldwin reportedly teamed up with Trevor Flores for the shoot, and the two created some real magic.
So, without further ado, check out Ireland Baldwin's perfect bare butt!
HAPPY HUMP DAY, Y'ALL!
To caption the above photo, Baldwin wrote,
One of the most freeing and special adventures of my life. Excited for what the future holds.
Hey, if the future holds more bare butt nude photo shoots with Ireland Baldwin, I'm hella excited, too!
According to E! News, Baldwin has been making the modeling rounds, garnering more and more opportunities in the industry.
One look at the 21-year-old's banging body, and it's not hard to see why this is the case, right?
Apparently, Baldwin is a big supporter of all models, regardless of how big or how small they are.
Speaking about the recent Sports Illustrated Swimsuit issue launch, Kim Basinger and Alec Baldwin's daughter said,
For me, I've always struggled finding my balance too. I'm not stick skinny. I don't really fit a specific mold. It's kind of hard to stand on your own and defending your body type and defending yourself and making a mark.
Ireland Baldwin also addressed the internet trolls models deal with on a daily basis. She said,
I think we all struggle with that a little bit. We all struggle with hate and comments and honestly, I think it's just jealousy. Especially Ashley Graham or Gigi Hadid. Anyone saying anything to them, it's going to be because anyone wants to look like them.
Good for you, Ireland Baldwin!
Citations: Ireland Baldwin Just Made Sand Sexy Thanks to Her Nude Photo Shoot (E! News)