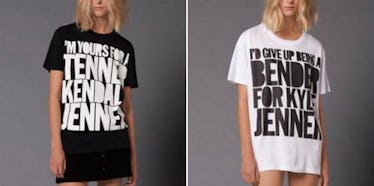 Fashion Brand Debuts Super Cringe-Worthy Shirts About Kendall And Kylie Jenner
Are you a fan of Kendall and Kylie Jenner?
Are you a fan of them in like a weird sexual/ironic way?
Do you have little to no self respect?
Then I guess these shirts are for you.
The English fashion designer Henry Holland of House of Holland has released his new line for Spring/Summer 2017.
If you're not familiar with this fashion company, it's famous for its signature shirts that feature bold-lettered "parody" slogans.
I guess by "parody," Henry Holland means weirdly aggressive sexual innuendos that rhyme with a celebrity's name.
Anyway, this year, for the brand's 10th anniversary, Kendall and Kylie have the pleasure of being included in Holland's rhyming sexual fantasies.
The Jenner sisters shirts read, "I'm yours for a tenner, Kendall Jenner," and, "I'd give up being a bender for Kylie Jenner."
(For those unfamiliar with crude British slang, "bender" is another word for a gay man.)
And if Bella and Gigi Hadid were feeling left out, not to worry! They too have their very own shirts that creepy guys can use to hit on them.
The shirts read, "Let's breed, Bella Hadid," and, "I don't smoke weed, I'd rather suck on Gigi Hadid."
Nice. Classy.
If you were thinking, "Well, these shirts are pretty bad, but at least they're probably not expensive," think again.
All of these shirts — which I would argue resemble the $15 custom-made t-shirts high school boys get at spring break in Miami — are priced at £75.00, or about $97.
Why do we let men run the fashion industry, again?
Citations: House of Holland Marks 10th Anniversary with More "Parody" Tees (The Fashion Law)