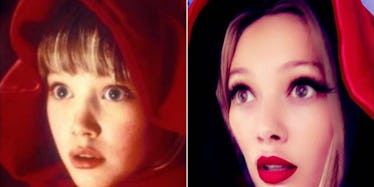 Hilary Duff's 'Casper Meets Wendy' Snapchat Selfie Is What Dreams Are Made Of
Instagram
If there were two fictional characters I wanted to be friends with 18 years ago, it was Casper the Friendly Ghost and Wendy the Good Little Witch.
I mean, come on. One was a ghost and the other was a pagan sorceress with a heart of gold.
Not only were they "friendly" and "good," they'd be awesome backup in a schoolyard brawl.
"Oh, you want to bully me? Say hello to my little friends."
Years before she became Lizzie McGuire, or met Paolo by the Trevi Fountain in Rome, Hilary Duff was Wendy the Good Little Witch in "Casper Meets Wendy."
In case you want to get in the mood of the Halloween season without being scared senseless like Jimmy Fallon and Kevin Hart were in that haunted house, blow the dust off that VHS and pop it in for a good time.
I mean, who wants to be scared so much to the point where they fart out loud in front of all those spooky performers?
But I digress...
In honor of the movie, Hilary took to Instagram to show off the filter Snapchat gave her, which allowed Duff a brief chance to reprise the role of Wendy.
Hilary captioned the priceless throwback photo with this:
Well just in time for Halloween @snapchat gave me this little treat of a filter #caspermeetswendy #wendythegoodwitch #20yearsago?! #ahhhhhhh
Although the film technically came out 18 years ago in 1998, I'm a fan of rounding numbers.
For instance, when people ask my age, I say I'm about 20 years old... you know, because I round to the nearest, uh, 20.
But seriously, it's like Wendy the Good Little Witch actually became Wendy the Good Adult Witch.
Snapchat, you are literally making a sequel play out in my mind.
I can see it now. Casper's still a boy in ghost form, and Wendy is his witch mentor who... um, is friends with a young boy.
Never mind, this is starting to sound all kinds of inappropriate.