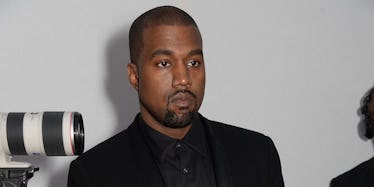 High School Throwback Pic Of Kanye West Proves He's Always Been An Artist
REX/Shutterstock
Kanye West doesn't care it's not Thursday — he will share a throwback photo whenever he pleases.
Which is why we were all blessed with this adorable yearbook photo of Yeezus in high school on a Monday. Hey, no complaints here.
Like I said, it's adorable.
Kanye graduated from high school at Polaris High School in Oak Lawn, Illinois in 1995, so that makes him only 18 years old in this photo.
The caption reads,
Kanye West puts the finishing touches on one of his many pieces of award winning art work.
Oh, yearbook caption writer, you don't even KNOW how many more awards are to come in young Pablo's future.
'Ye really did have a talent for art at that age — he even got a scholarship to American Academy of Art after he graduated.
After one semester, he transferred to Chicago State University but, as we all know, became a college dropout.
Kanye really wasn't holding back on the cute Twitter photos today. Right before that #TBM, he tweeted a picture of North, AKA the cutest child in the universe.
NO! STOP IT WITH THOSE EYES IT'S NOT FAIR.
The Kardashian-Wests have some A+ genes.