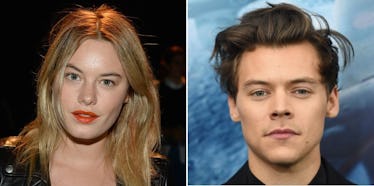 5 Things To Know About Harry Styles' Rumored New Girlfriend, Camille Rowe
Ben Gabbe/Getty Images and Jamie McCarthy/Getty Images
I can't keep up with Harry Styles' love life, but some things in this world just aren't meant to be understood. The "Sign Of The Times" artist has allegedly been back in the dating scene since June, and has most recently been linked to a new Victoria's Secret Angel. Elite Daily reached out to both Styles and Rowe's teams for comment on their rumored relationship, but did not hear back by the time of publication.
On behalf of the people, here are all the facts about Camille Rowe I could find.
Disclaimer: I couldn't find much, but that's because she's a woman of mystery, intrigue, and only cool enough to hang with celebrities outside of the limelight. I PROMISE WHEN I KNOW MORE I'LL TELL YOU, OK?!
1. She is four years older than Styles.
If there is one thing Tyra Banks taught me on America's Next Top Model, it's that this girl is KILLING the game. At 27 years old, Rowe is four years older than Styles and also on the more mature side for a supermodel by modern standards. Still, make no mistake – age has nothing to do with how capable you are as a model, and Rowe has been in the industry for almost a decade.
2. She has also acted.
Like, in music videos AND major motion pictures, in fact.
She made her acting debut in the 2010 French thriller Our Day Will Come, to mixed reviews. She can also be seen in MGMT's "Alien Days" and The Strokes' "Call Me Back" music videos.
3. She is the third Victoria's Secret model that Harry has reportedly dated.
Talk about #blessed. (Get it? That was an angel joke.)
In 2015, it was rumored that Styles was smitten with fellow angel Nadine Leopold, and later, he was seen kissing angel Sara Sampaio. Sure, sure. It looks like an innocent "goodbye" smooch, BUT IS ANYTHING INNOCENT WHEN YOU'RE HARRY STYLES AND A LITERAL SUPERMODEL?!
4. She was discovered at the age of 18.
Rowe attended college in the French Capital where she was "discovered." After signing with WM Models in Paris, her career rapidly took off.
She has since signed with Marilyn Model in NYC and Stage Models in Tokyo as well.
5. She's French-American (AKA AN EXOTIC BEAUTY).
In 2015, she made a hilarious video with Vogue displaying the differences between American and French women. Check it out below.
I know, I wish I could tell you more like what she eats for breakfast, uses as her facial cleanser, and if she really wakes up like that or not, but for now, we'll just have to accept she's a woman of intrigue and mystique.
Harry, I dig it and I dig Rowe. Call me when you guys are Facebook official slash just update your Facebook profile. I'll probably hear the news.