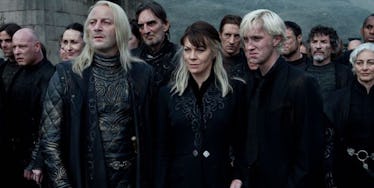 'Harry Potter' Actor Is Going To Be The Next 'Star Trek' Captain
Warner Bros
Good news for all you Trekkie Wizards out there!
CBS has officially confirmed that Jason Isaacs, who you probably remember from that 2003 "Peter Pan" reboot, or, like, also maybe his recurring role in "Harry Potter" as Lucius Malfoy, will be starring in the twice-delayed modern digital version of "Star Trek."
The series will feature new characters, including Isaacs' Captain Lorca, and stories taking place on the Starship Enterprise (that has been renamed the Discovery).
Isaacs is joined by a pretty full cast of people who will make you go "Waiiiiiitttttt, I know that person, right? Do I?"
The Hollywood Reporter reports,
The Walking Dead's Sonequa Martin-Green as Rainsford, a lieutenant commander; Doug Jones as science officer Saru; Anthony Rapp as fellow science officer Stamets; James Frain as Sarek, a Vulcan astrophysicist and Spock's father; Terry Serpico as Starfleet admiral Anderson; Maulik Pancholy as chief medical officer Nambue; and Sam Vartholomeos as junior Starfleet officer Connor. Set to recur are Michelle Yeoh as Georgiu, captain of another ship called the Shenzhou; Shazad Latif as Kol, the Klingon commanding officer; Chris Obi as a Klingon leader T'Kuvma; and Mary Chieffo as L'Rell, a Klingon commander.
The show is slated for a 13-episode first season being released on CBS' digital platform. Les Moonves, CEO of CBS, says "Star Trek: Discovery" is probably going to debut in late summer or fall.
Since it was announced CBS would be trying to resurrect the sci-fi staple, the production has been riddled with problems. It was originally supposed to premier in January 2017, but was pushed back to May after being pushed back again until its current release date.
Bryan Fuller, who was originally slated to be the show-runner, exited the project back in October, leaving his collaborators Gretchen Berg and Aaron Harberts to take over the series.
Isaacs tweeted about his new gig right after the news was released.
This is a great time for all of you Star Trek-Harry Potter nerds out there.
Citations: Star Trek' Enlists Jason Isaacs as Discovery Captain (Hollywood Reporter)