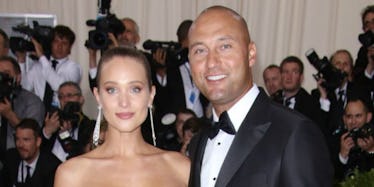 Hannah Jeter Was Already Pregnant While Taking These Sexual SI Swimsuit Pics
REX/Shutterstock
I don't know about you, but the first thing I'm going to do when I find out I'm pregnant is buy overly large t-shirts and a Costco-sized tub of Ben & Jerry's, just to get myself ready to let my body go to a state worse than it is now and let that baby grow.
Model Hannah Jeter (nee Davis) posed for the Sports Illustrated Swimsuit edition after she found out she was pregnant with Derek Jeter's child, so obviously our priorities are not the same.
The 26-year-old wore a number of bikinis for the beach shoot where her flat stomach and cleavage were the highlight, which is normal for a Sports Illustrated Swimsuit issue.
But surprise! There was a baby growing inside of her the whole time!
Do you... do you think the baby was wearing a swimsuit inside her tummy, too?
I'm just kidding, I know that's not how reproduction works. (I just Googled it.)
Hannah, who appeared on the cover of the 2015 Swimsuit issue, is making her fifth appearance in the 2017 issue, which came out on Wednesday.
On Monday, she took to Jeter's website, the Players' Tribune, to announce they were expecting and how they want her to have a "normal" life.
She wrote,
They're going to be born into such an extraordinary situation. They're going to have to be some strong little people. We don't want them to be defined by their dad's name — for them, we want him to just be 'Dad.' That will be the piece of him they'll have that the rest of the world doesn't. It will be special, and it will be theirs. Still, though, I want them to know Derek Jeter. I feel some sadness — and Derek must as well — thinking about how our children will never get to experience that time in his life. We can show them videos, and photos, and memorabilia — I already can't wait to show them footage of that last night at the Stadium. But I know it won't be quite the same. I'll tell them myself: You had to be there.
Most of my parents' "You Had To Be There" stories are probably not as entertaining as hearing your dad was one of the greatest baseball players of all time.
Yeah... Uh. One time my dad wrestled a rotisserie chicken out of the jaw of an alligator because he accidentally dropped it in the bayou.
Citations: Hannah Davis Posed for 'Sports Illustrated Swimsuit Issue' in a Bikini After Learning She Was Pregnant: Photos (US Magazine)