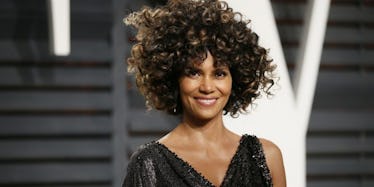 Halle Berry Strips Down And Skinny-Dips In Slo-Mo Sexy Video On Instagram
REUTERS
Let it be known throughout the land I've been madly in love with Halle Berry since she was Storm in "X-Men."
At 50, she still looks exactly the same. Meanwhile, at 29, I look like this:
Aside from looking perfectly glamorous at the Oscars on Sunday, Halle decided to take off her clothes and skinny-dip after all the confusion of Envelopegate -- hey, we all needed to cool off.
Let me just say Halle Berry hasn't been this naked near a pool since that scene in "Swordfish."
OK, this is not that scene, but at least you weren't fired at work for looking at that scene embedded in my article, right? I'd feel really guilty if that happened.
You can watch her skinny-dipping session go down on her Instagram provided Instagram is still working after all these outages caused by Amazon's cloud service.
Hopefully, the internet will arrive in three business days if you're a Prime user?
I digress. Here's Halle get naked AF.
Set to the tune of Bruno Mars' "Versace on the Floor," Halle runs down a path toward a pool in slo-mo before doing a dive I'd personally score a perfect 10.
Same, Bruno. Same.
In case you forgot, Halle lent her sweet, sultry vocals to Bruno's "Calling All My Lovelies" from his album 24K Magic. Now, Bruno is lending his sultry vocals to Halle's audition for Team America's Olympic diving team (fingers crossed).
Halle captioned the photo, writing,
After a long award show a girl can't wait to take it off! @brunomars #24kmagic
My only wish was this magical dive was captured in 4K, am I right?
No, just me? Cool!
Halle Berry running to get naked is all of us when we get booty-called at a reasonable hour.
If it's at 3 am, this is all of us trying to get to our booty call:
Same, Leo. Same.
Citations: WATCH: Halle Berry Goes Skinny Dipping After the Oscars (CeleBuzz)