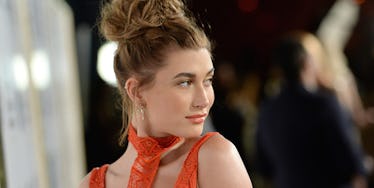 Hailey Baldwin Dyed Her Hair Pink Even Though Coachella Is Months Away
REX/Shutterstock
By the end of this article, I'm going to need you to have a strong, unwavering opinion about Hailey Baldwin's hair. Deal? Good.
Hailey Baldwin is one of those people who I for sure know, but I'm not sure exactly how.
I think she's Alec Baldwin's daughter (she's not). I think she's in Taylor's squad (she isn't). I'm pretty sure I've seen her model some stuff and if I'm not mistaken, she was 100 percent involved with Justin Bieber at some time.
At best, I could probably identify her in a police lineup.
That's it, though. Hailey Baldwin has the rare problem of being famous, but not being dynamic or noteworthy enough for people to know why they know who she is.
Maybe this will help her stand out. Maybe Hailey was one box of outrageous hair dye away from being someone who we all know.
The 20-year-old Tucson native posted the following picture to her Instagram page, and it's pretty wild.
HOW DO WE FEEL ABOUT THIS?
Just for a reference point, this is historically what Hailey Baldwin's head normally looks like.
Pink hair is a big break from this.
It's unclear if Hailey's hair is a wig or if it's a more permanent feature.
She posted a few other pictures since the pink hair upload, and they're of her with her standard brown/blonde hair choice, but both are modeling shots, which means they were probably taken a while back.
This isn't the most unique look for Baldwin, though. Kylie Jenner has become the queen of screwing around with hair color.
Almost a full year ago, she posted the following shot to her Instagram.
Is this Hailey Baldwin appropriating Kylie Jenner's hair? Is that how this works?
SOMEONE TWEET ME THE CORRECT TERM TO CALL THIS MOVE.
Is it called "Sharking?" Like "Man, did you see Hailey Baldwin straight-up SHARKING Kylie's hair?"
Did I just make this phrase up????
Citations: Hailey Baldwin Proves That Pastel Hair Is Here To Stay (Refinery 29)