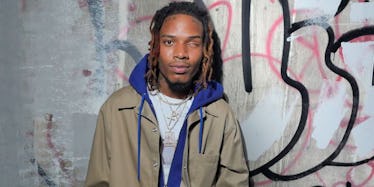 Guy Who Stole Fetty Wap's Chain Arrested After Posting This Pic To Instagram
REX/Shutterstock
Fetty Wap's long-time rival, Raheem Thomas, was arrested after a robbery and shooting Sunday morning.
According to TMZ, Paterson police booked Raheem after he posted a picture wearing Fetty's "1738" chain on Instagram.
Raheem insisted he didn't steal the chain himself and has been booked only for the shootout, not the burglary.
Sources told the site Raheem, aka Fuzz, and Fetty's feud over music deals dates back years. Raheem's crew has warned Fetty to "stay out of Paterson," despite it being where Fetty hails from originally.
Whether or not Raheem/Fuzz jacked Fetty's chain, posing with a stolen item on the internet is an easy way to get accused of committing a crime. It just is. I don't make the rules, I just follow them to the letter our of sheer terror and the knowledge I could never survive prison.
Here is a full list of activities to avoid when attempting to successfully crime-it-up:
1. Posting a picture of yourself and your stolen treasures on Instagram.
2. Wearing a loaded, unlicensed gun on a ribbon around your neck.
3. Walking into any bank while singing Linda Ronstadt's "Heat Wave," but replacing the chorus with "Crime Wave."
4. Carpooling kids from the local elementary school to a study circle at your house if you do not have a kid in that carpool.
5. Pretty much anything to do with anyone else's car.
6. Showing up to court/work/school/a party with someone else's blood on your shoes.
7. Leaving your semen anywhere other than the usual places.
8. Screaming "THE LAW IS A LANGUAGE I'LL NEVER COMPREHEND" as you rip jeans off the rack at Target and shove them in your backpack.
9. Bragging about all the "big time library fires" you set last night.
10. Dancing in the town from "Footloose."
Anyone able to keep these 10 teensy reminders in the back of their brain will live a life of uninhibited freedom. Bible.
Best of luck to you all.
Citations: FETTY WAP STOLEN CHAIN POPS UP ON IG ... Suspect Arrested (TMZ)