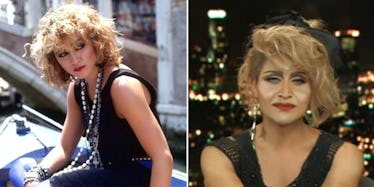 Guy Spends Over $100,000 On Plastic Surgery To Look Like Madonna (Photos)
A 31-year-old man with an obsession with Madonna spent around $116,000 on plastic surgery to look like the iconic pop star. Adam Guerra has had 18 surgeries to alter his appearance in his attempt to channel the "Like A Virgin" singer.
Guerra is now planning a 19th surgery as he intends to get butt implants.
Guerra turned his obsession into a career and travels the world working as a Madonna impersonator.
Guerra said,
[Madonna] has made my life, pretty much. When I was 18 I performed as Madonna and I got a huge response from the audience. This big lightbulb went on above my head. At first it was a dream, and then a goal, and then a costly obsession... It's taken me to many places. I'm actually planning an international tour this year.
However, Guerra's extreme dedication to his idol caused problems with his personal relationships, especially with his boyfriend. Guerra said,
It's created a lot of friction. He's concerned about the surgeries and how far I'm going with them. He's doing his best to accept it.
Here are some photos of Guerra, who, no surprise, looks a great deal like Madonna:
Guerra in full Madonna makeup:
Guerra posing as the "Queen of Pop":
Guerra picking out costumes:
Here he is posing with the guy who spent more than $100K to look like Justin Bieber.
Here he is in action:
Citations: Male Madonna wannabe spends on surgery to look like his idol (Mirror)