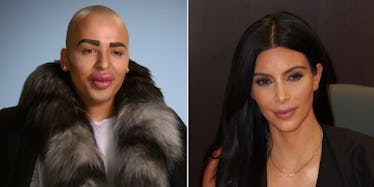 Guy Who Spent Over $150,000 To Look Like Kim K Can't Even Move His Face (Video)
Jordan James Parke is a 23-year-old man who is obsessed with looking like Kim Kardashian West.
Parke spent over $150,000 on plastic surgery in order to look like the reality TV star.
However, his attempt was clearly misguided. Due to all the botox and lip injections, he is now unable to move his face.
Parke appeared on the TV show "Botched" to talk about his issues. The clip itself is pretty difficult to watch.
Honestly, this guy's face is grotesque because of all the elective surgeries he's had.
But if you're morbidly curious about Parke, check out the video above.
Citations: Kim Kardashian superfan who spent on surgery has leaking lips and can no longer move his face (Metro)