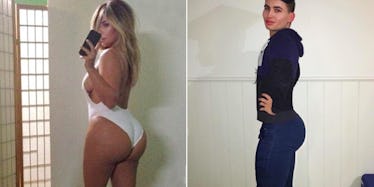 This Guy's Butt Is Giving Kim Kardashian A Run For Her Money
TwitterInstagram
A wise man named Sir Mix-a-Lot once said, "I like big butts, and I cannot lie."
If there's one thing we can learn from these words of wisdom, it's that the rapper was way ahead of his time.
Over the past few years, it's become increasingly apparent that the era of big boobs is over and butts are the new big thing.
Yep, thanks to the big booty movement, it seems like everyone is striving for a brag-worthy behind of Kim Kardashian's caliber — even guys.
That's right. It turns out ladies aren't the only ones doing squats to whip their butts into shape.
Men are also getting in on the apple bottom action and flexing some seriously impressive "man butts" these days.
If you thought no man butt could ever stack up to Kim Kardashian's signature backside, you clearly haven't seen the latest tush turning heads on social media.
Allow me to introduce you to Ruby Rue.
This 18-year-old may seem like your average dude from Melbourne...
...but wait until you see him turn around.
Yep, Rue has been dubbed as the male version of Kim Kardashian...
...and it's not hard to see why.
This guy might have the most impressive "man butt" of all time.
In fact, his mesmerizing buns of steel are so damn round and robust...
...his booty could basically put Kim Kardashian's signature backside to shame.
No really, this badonkadonk is so ridiculously perfect, it's almost hard to believe a butt like that could even exist IRL.
Lately, Ruby has been gaining a lot of attention on social media because of his almighty ASSets...
...and now, lots of ladies are swooning over this dude's derriere.
If one thing's for sure, Ruby Rue's rump is living proof that never skipping those squats on leg day seriously pays off.
Citations: Buns of steel - but are they real? 'Male Kim Kardashian' obsessed with the star breaks the internet as he shows off his huge backside in a series of revealing selfies (Daily Mail)