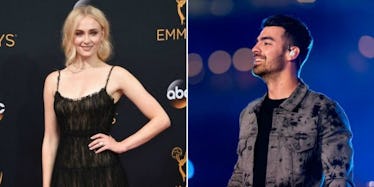 'GOT' Star Sophie Turner Is Wearing Her Love For Joe Jonas On Her... Chest
REX/Shutterstock
Sophie Turner and Joe Jonas are quickly becoming one of the hottest couples in the entertainment industry.
The "Game of Thrones" star and the DNCE frontman made major headlines last November when they were caught kissing at the pre-MTV Europe Music Awards Kings of Leon concert at the Oude Luxor Theater in Rotterdam.
Speaking on their rumored relationship, a source reportedly told People magazine,
She's always been into him, but he's starting to like her more and more.
Another source reportedly confirmed Turner and Jonas were "dating exclusively." That source said,
He was playing the field, but he really likes her and is willing to settle down for her.
Now, it appears Sophie Turner and Joe Jonas aren't trying to hide anything about their budding relationship.
Thursday afternoon, while taking a walk around Los Angeles, Turner was photographed wearing a long sleeve DNCE t-shirt.
The shirt was adorned with baby pictures of DNCE's four members, including Joe Jonas, of course.
I mean, how adorable is this? This shirt is also really cool and I'd like to own one.
Sophie Turner and Joe Jonas are clearly in love, and it's only a matter of time before these two get engaged... right?
Earlier this month, Mario Lopez interviewed Sophie Turner on the red carpet at the 74th Annual Golden Globes.
Lopez attempted to get the 20-year-old to really open up about her relationship with Joe Jonas.
As you can hear in the video above, Sophie Turner said,
Well, I'm not saying anything. I'm very happy. I don't know who you're talking about, really.
She added,
This is Louis Vuitton by Nicolas Ghesquière, head to toe basically. And the engagement ring... there isn't an engagement ring.
I like how Sophie Turner is being coy when quizzed directly about her relationship with Joe Jonas. Like the "Game of Thrones" star said, she's "very happy."
Can't we just leave it at that?
Citations: Sophie Turner Proves She's Joe Jonas' Biggest Fan Wearing a DNCE T-Shirt (People)