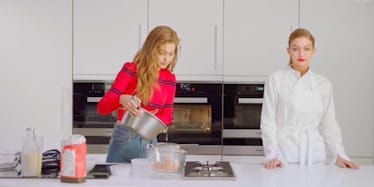 Gigi Hadid Made Yorkshire Pudding With Herself In The Most Awkward Video Ever
Vogue
Gigi Hadid made Yorkshire pudding with British Vogue, and it turns out that shit looks like muffins.
NOT pudding.
The model starred alongside her chef alter ego and berated herself for three minutes while cooking some pudding muffins.
Though we can't taste the food, we still learned a lot about Geeg.
What is her biggest fear in the kitchen?
She said,
For me to be like, 'What should I cook today? I can make anything!' and then, they tell me what to cook and then I screw it up.
Brave.
What would she do with a time machine?
She said,
I would just use it every day to get to work instead of having to go to airports.
Inspired.
What is her favorite restaurant in the world?
She said,
My boyfriend's mom's house.
Tactical.
The 21-year-old and her boyfriend, Zayn Malik, recently faced backlash online after a video of Gigi imitating Buddha began circulating this week.
Zayn brushed off critics' concerns with a casual, self-referential tweet claiming his girlfriend "likes asians ; ) ."
Twitter user @egyptizayn did the intellectual legwork on this one, telling the former One Direction member to "educate" himself "for the sake of [his] career and [his] social standing."
He added,
You can't get away with this shit. I'm telling you this for your own sake bc it's 2017 and a time of peril for a lot of people and you can't afford to be ignorant… If you wanna be another celebrity that burns out bc they're so ignorant go ahead but you'd waste everything you worked for.
Amen. Hallelujah. Say it again. Say it louder. Yell it. Tell it. Scream it. Dream it. Write it. Tweet it. Michael Jackson's "Beat It." Twist it. Pull it. Bop it. Top it. Put it in a champagne bottle and pop it.
My enthusiasm has driven this entire post astray, but one thing remains true: When it comes to casual/any racism, we can all be better.