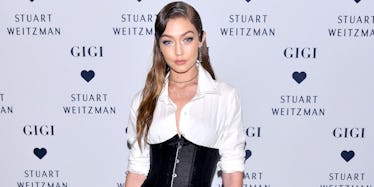 Gigi Hadid Stole Her Latest Look From Kim Kardashian And Kylie Jenner
REX/Shutterstock
Has Gigi Hadid been messing around in Kim Kardashian's closet or something?
It sure seems like it. The 21-year-old model was seen channeling her inner Kimmy after being spotted out wearing a corset over a long shirtdress. This was a trend Kim hopped on board with when she was obsessed with waist-training.
Here's Gigi's full look.
I'll be honest... It kind of looks like a lab coat, but it's Gigi so it's OK.
Gigi Hadid wore her corset-based get-up to celebrate the launch of the Gigi Boot with Stuart Weitzman.
In a recent interview with Women's Wear Daily, Gigi Hadid opened up about creating her new boots with Stuart Weitzman, saying,
This experience has been such a thrill, from choosing the style to selecting materials to creating the signature box. I am so excited to finally share these boots and be able to wear them myself.
From headlining Tommy Hilfiger fashion shows to eating birthday cake on a plane with Taylor Swift and now rocking corsets in public and designing her own pair of boots, Gigi Hadid is un-fucking-stoppable at this point.
She paired the shirtdress and black satin corset with a fashionable pair of black skinny jeans and a black pair of her signature Gigi boots.
Damn, Gigi, you're so edgy I can't take it (in a good way).
In addition to complimenting Gigi on her newfound fashion trend, it's only right that Kim K. gets credit for making it socially acceptable to wear an actual corset over your clothing, ladies.
Remember this look from Kim's pre-robbery days?
Kylie Jenner did it, too.
Yeah, it's official. This is just proof that the Hadids and the Kardashians can pretty much wear anything and look flawless.
Meanwhile, if you were to see ANYONE ELSE wearing a corset over their dress shirt in public, you'd probably think they were on hard drugs.
Citations: Gigi Hadid Emphasizes Cleavage Without Showing Any (Cosmopolitan)