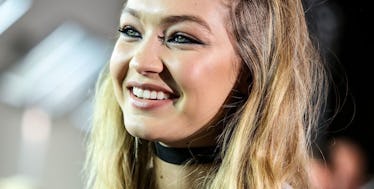 Gigi Hadid Shut Down A Body-Shamer With One Badass Instagram Comment
REX/Shutterstock
Women can literally not win.
You could be Gigi Hadid and still get unsolicited body-shaming from some hobgoblin of a person, lurking around on the internet.
First, who said our bodies were ever for your consumption? Second, I will literally fight you. Third, everyone's bodies will always be too big or too small.
On Sunday, August 14, the model posted a bikini selfie, which prompted the body-shamer to comment Hadid has lost too much weight since she signed with IMG Models when she was just 17 years old.
The Tommy Hilfiger brand ambassador snapped back and shut it down immediately.
To further prove people will never be happy with a woman's body, in September, Gigi was told she was too curvy for the runway.
She approached that comment just as gracefully. She took to Instagram and admitted she is aware she doesn't have the same body type as other models in shows.
She added:
No, I'm not the first or last model of my type in this industry. You can make up all the reasons you think I am where I am, but really, I'm a hard worker that's confident in myself, one that came at a time where the fashion industry was ready for a change.
Keep livin' your life, Gigi. You go, girlfriend!