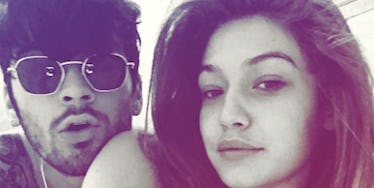 Gigi Hadid Looks Naked In This Instagram Pic From Bed With Zayn Malik
Instagram
Gigi Hadid's Instagram story this morning proves once and for all she and Zayn Malik are definitely not waiting until marriage.
If you aren't following Gigi Hadid on Instagram, then take my advice and change that. Yes, for the most part her Instagram is pretty standard for Hollywood people like herself.
It's a lot of model shots, some branded pictures, a couple of sunsets and a motivational quote here and there. Nothing too crazy.
Every once in a while, though, she'll post something that'll make you do a spit take.
Like this picture above, for instance, of the 21-year-old and her boyf just seconds after they totally slammed boots into each other. (That's how sex works, right? You just chuck actual boots at each other? I've been having sex right this entire time, right?)
The photo was posted the morning after Zayn took home the iHeartRadio Music Award for Best Music Video of the Year for "Pillowtalk."
Though he wasn't at the award show itself, Zayn did get a chance to record a video for his fans to accept the honor.
During the video, Zayn thanked iHeartRadio for the award, saying,
To everyone at iHeart, I'm currently in Paris -- sorry I can't be there. A little birdie told me that I've actually won an award, so thank you very much. I'm very honored. To everyone that voted, thank you very much, it means a lot. My co-star's actually sat right next to me, so she's gonna say hello as well.
Gigi then went on to rub Zayn's face and send some love to their fans for his award.
She does actually deserve a little credit for Zayn's award as she played opposite him in the music video for the song.
Gigi had her own massive week aside from all the buzz surrounding the iHeartRadio Music Awards, though, as Vogue Arabia unveiled its first ever cover, featuring Gigi wearing a scarf in honor of her Palestinian heritage.
She captioned the post,
I think the beautiful thing about there being international Vogue's is that, as a fashion community, we are able to celebrate, and share with the world, different cultures. Being half-Palestinian, it means the world to me to be on the first-ever cover(s) of @voguearabia, and I hope that this magazine will show another layer of the fashion industry's desire to continue to accept, celebrate, and incorporate all people & customs and make everyone feel like they have fashion images and moments they can relate to... & learn and grow in doing so. Thank you @deenathe1st for your vision and for having me on this cover... by the incredible @inezandvinoodh - so much love.
Keep killin' it, Gi!