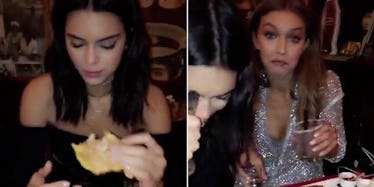 Gigi Hadid And Kendall Jenner Almost Look Human Downing Burgers After VS Show
Snapchat
Guys, I know it might be hard to believe... but models are humans, too.
Despite their godlike appearances, they crave comfort food and cocktails just like the rest of us.
Take Kendall Jenner and Gigi Hadid, for example. After they completely owned the runway at the 2016 Victoria's Secret Fashion show on Wednesday night, they crushed a plate of burgers and mac 'n cheese.
You go, girls! You deserve this.
According to MailOnline, the models made their way to Ferdi Paris to chow down on some post-show dinner, and Bella Hadid documented the entire meal on Snapchat.
The models -- still dressed in sparkling lingerie and rocking flawless makeup from the show -- sat at a table set with burgers and margaritas, AKA my idea of heaven.
They definitely deserve this meal a lot more than I ever would, though.
Apparently, Kendall set up the dinner so she and her friends could treat themselves after months of strict fashion show prep.
Kendall is a GOOD FRIEND.
In Bella's adorable Snapchat, she films Ken with a description that reads "Man that's my bitch," and stated,
Kenny is the MVP. She set up all of this so we could eat burgers tonight after the show. Come through.
She continues, and focuses in on Kendall's plate, which is almost finished. Hilariously, she points out how fast the model downed her burger and says,
Kendall, we've been here for like three minutes. Are you OK? You're almost done.
Of course she's OK! In fact, she's probably on Cloud 9 right now. You eat that burger, Ken.
Really, though. These girls slayed the runway and deserve more than just a plate of burgers and mac 'n cheese after such an incredible night.
The fact that simple things like margs and burgers make them this happy confirms the fact we'd probably be best friends with them.
It also confirms they're human... they're nearly perfect, but still human.
Cheers, ladies.
Citations: MailOnline