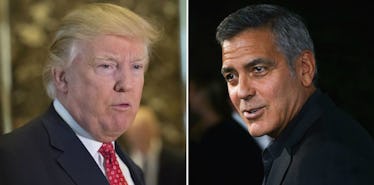 George Clooney Tells Trump To Leave Meryl Streep Alone And 'Run The Country'
REX/Shutterstock
DONALD TRUMP, LEAVE MERYL STREEP ALONE!
If you missed the Golden Globes this Sunday, then you probably got a skewed understanding of what happened during the show from reading the president-elect's Twitter.
On Sunday night, Meryl Streep was honored with the Cecil B. DeMille Award for "outstanding contributions to the world of entertainment."
She gave an emotional acceptance speech and used it as an opportunity to call out Donald Trump for mocking a disabled reporter during his campaign speech.
Of course, Donald Trump responded to the actress on Twitter (because that's where the president should spend most of his time!) and called her "one of the most over-rated actresses in Hollywood."
Well, now George Clooney is getting into the mix. The 55-year-old actor had a lot to say about Donald Trump's tweets during an interview with Us Weekly.
When asked about his feelings about Meryl's speech and Donald's tweets, Clooney said,
I believe he said she's overrated? Well, I've always said that about Meryl. She's one of, if not the most, overrated actress of all time. She and I worked together and played husband and wife in [2009's] 'Fantastic Mr. Fox.' Even as a female fox, she was overrated. I believe that. [Laughs] But seriously, aren't you supposed to be running the country?
OH MAN, CLOONEY IS BRINGING THE HEAT.
But, seriously, Meryl Streep is a legend and I encourage you to listen to her speech in full if you haven't heard it yet.
Even though Donald Trump clearly didn't like it, many other celebrities praised Meryl's words,including Ellen DeGeneres, Priyanka Chopra, Gina Rodriguez, Brie Larson and more.
Meryl concluded her speech by quoting the words of the late Carrie Fisher:
As my friend, the dear, departed Princess Leia said to me once: 'Take your broken heart, make it into art.'
Well done, Meryl. Well done.
Citations: George Clooney On Donald Trump And Mery Streep (Us Magazine)