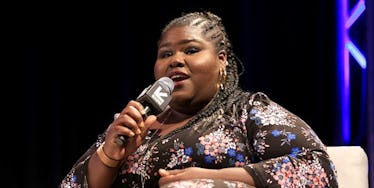 Gabourey Sidibe Gets Real About Race Discrimination: 'I'm Used To Bad Service'
Getty Images
Gabourey Sidibe is sorta-kinda famous AF.
The 34-year-old actress rose to immediate recognition after her Oscar-nominated performance in the film, "Precious," alongside actress Mo'Nique. She has also scored roles in shows like "American Horror Story," and "Difficult People." Today, she has a recurring role as Becky on the hit FOX show, "Empire."
Somehow though, her recognizability didn't transfer into the Chanel store she stepped into when trying to shop for a pair of sunglasses for herself and sandals for her co-star, Taraji P. Henson.
In an essay she penned for Lenny Letter, she detailed a sad experience with the Chanel saleswoman.
Sidibe wrote about being told to go across the street to a discount store.
She wrote,
"Across the street?" I asked, confused. "Yes. In the building across the street on the fifth floor." She gave me the name of a discount frames dealer. I had been at her display for less than a minute, and she was literally directing me to another store. "But … I want Chanel frames," I said. She told me the name of the other store again and exactly how to get there and let me know that they had lots of different frames, including Chanel.
It wasn't until other Chanel employees of color began to recognize Sidibe that the saleswoman changed her tune and redirected her to the very sunglasses that she asked about initially.
The actress shared that she isn't sure about the true reason for the sales associate's rude disposition.
Sidibe gets discriminated against for being both black and a plus size woman.
She wrote,
To be fair, I don't know why that saleswoman didn't want to help me. I suspect it's because I'm black, but it could also be because I'm fat. Maybe my whole life, every time I thought someone was being racist, they were actually mistreating me because I'm fat. That sucks too. That's not OK.
In the letter, she also details several similar shopping experiences, including a time when she was checking out a Dior lipgloss and an associate took it out of her hand and placed it back on display.
In 2016, she told People magazine about also having to block racist trolls on social media "every single day" who call her fat and sling racial slurs in her comments.
Size-shaming and racial discrimination aren't the actress' only fights.
Gabourey Sidibe has also been forthcoming about her mental health battle in her latest book, "This Is Just My Face, Try Not To Stare." She points toward therapy and antidepressants as her treatment methods.
It looks like Sidibe is also empowering herself in all of these areas with not only her self-care routine, but also by using her platform to speak out about what so many people face on such a regular basis.
And in case you're wondering: Yes, she still got her Chanel frames.
Most people would understand if she decided to leave the store and reserve her money for much better customer service, but Sidibe gave a pretty understandable reason why she still swiped her card at the luxe retailer.
She wrote,
Honestly, if I walked out of every store where someone was rude to me, I'd never have anything nice. As a successful adult, sometimes I walk out of the store in a huff, without getting what I want, denying them my hard-earned money. Other times I spend my money in an unfriendly store as if to say "Fuck you! I'll buy this whole damn store!"
Damn right, Gabby!
There's nothing like sending a big "fuck you" to ignorant stereotyping.