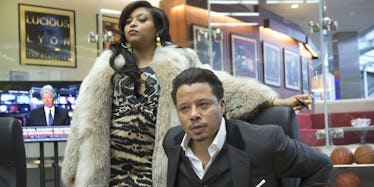 7 Shocking Moments From The 'Empire' Season Finale
Fox
Fans of the FOX hit show, "Empire," counted down the days and hours until the season finale, and a record-breaking 17.5 million fans were not disappointed.
The series has been breaking television records and consistently increasing its ratings, week after week, in its first season.
Lee Daniels struck gold when he decided to create the show about a music mogul named Lucious Lyon (Terrence Howard), who finds out he has ALS and must name a successor to run the family business when it goes public.
"Empire" has a great foundation: Family drama exists at all levels, but the show sheds light what goes on behind the scenes in the world of hip-hop and what is really at stake.
Viewers are given a front row seat to the music industry, which consists of questionable deals, backstabbing and committing acts you never thought you would to get to the top. It's exciting as hell to watch.
With all of the drama building up, it was only right the season ended where it began; someone from the Lyon family ended up in jail, leaving the rest of the family fighting and scheming for control of the company.
Here's a look at the seven biggest moments from the show's finale, 'Die But Once' and 'Who I Am.'
What ALS?
Up until last night, the season focused on Lucious' mortality and what it will mean for him, his company and his family after he dies.
That fear only lasted for 11 episodes because it appears he has been misdiagnosed. Just when you thought Lucious was going to atone for his many sins, you guessed wrong. He now thinks he is invincible because he cheated death.
Cookie finds out the truth about Bunkie.
It appears some severe sleeping pills made Lucious' tight lips rather loose, as he began hallucinating and confessing to the killing of Cookie's cousin, Bunkie (who was killed in the beginning of the season).
In a moment when we couldn't even blink, our thoughts were racing: "Is she really going to do it? Will she kill the father of her children?"
The answer was a resounding, no.
However, Lucious is not a fool and wasn't completely out of his mind. As he was handing out gifts to the family, he gave Cookie a miniature pillow, letting her know he is on to her.
Cookie gets cut from the empire.
Once Luscious checks the security system in his bedroom, he finds out the truth of what Cookie tried to do to him, so what does he decide to do next?
Take her out of the company.
Lucious was already jealous over her relationship with his security detail and with Jamal.
After the attempted murder, he went as far as taking Cookie's name off the tribute concert. That was cold, even for Lucious.
Jamal is more like Lucious, after all.
Jamal and his father struggled this season with their relationship, mainly over Jamal's homosexuality. However, it was the power of music that brought them back together.
Even more, it was their former home that served as the inspiration for the dynamic pair to create a new song together.
While Lucious was impressed with the song, he wanted more from Jamal; he wanted him to prove himself.
To fulfill the request, Jamal went out to solidify the bond between him and his father by dangling Beretti over a balcony and going all "8 Mile" against a rapper who made slanderous remarks at him for being named the successor.
Hold onto your pearls.
It was the punch heard around the world, and a fight more anticipated than Mayweather and Pacquiao.
The ladies who couldn't hide their discontent for one another at a meeting arranged to take control of the company once it goes public.
Boo Boo Kitty was left picking up her father's pearls off the floor.
Poor Uncle Vernon...
Maybe Vernon should have stayed in rehab a little longer, at least until the company went public. After his release, he reconnects with Lucious and the pair seem to be back on track.
However, he was not welcomed with open arms when he went to see Andre. The two argue and punches fly, and just when we thought things couldn't get worse, Andre's wife, Rhonda, knocks Vernon over the head with a candlestick. RIP, Uncle Vernon.
The Lyon falls.
Lucious and Jamal couldn't have been any closer during this finale, and backstage, Lucious shared a secret with Jamal no one else knows: His real name is Dwight Walker.
It was at that moment Lucious felt like a normal person and less God-like. The moment didn't last long, as the FBI took Lucious into custody for the murder of Bunkie.
As Lucious immediately suspects, it was Cookie who sold him out. When he walks past his sons, Andre and Hakeem, it becomes crystal clear they were also involved.
The game is definitely on now, bitches!
Lucious ended the season promising to return and make a comeback for the ages. We just have to wait until season two.