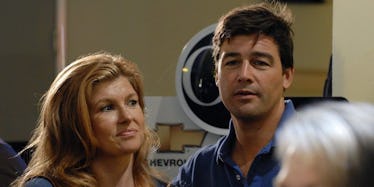 Coach Eric Taylor And Tami Taylor Had An Epic 'Friday Night Lights' Reunion
Universal
Clear eyes! Full hearts! Can't lose!
It's been around five years since Coach Taylor and Tami Taylor taught us all what marriage was supposed to be like.
Their relationship on "Friday Night Lights" didn't just inspire, it made us all look at our dumb relationships and realize we've been doing the concept of love wrong.
The show ended in 2011 and since then we've been forced to kind of dream up what the rest of their life has been like since.
We don't need to imagine anymore as the Taylors had a small reunion last night during the Emmy awards and it was absolutely perfect.
Try not to explode with #TBT overload over this picture Connie Britton posted to Instagram.
THIS IS ENTIRELY TOOOO MUCH! Ugh, how I miss them so.
How much money can we pay Hollywood to start "Friday Night Lights" up again?
What if it's just a Tami Taylor spinoff show where she gives the people of Philadelphia a bunch of pep talks while her husband makes their football system great again?
Someone please call Hollywood for me! Thanks so much!
Citations: Friday Night Lights Connie Britton and Kyle Chandler reunite at the Emmys (Entertainment Weekly)