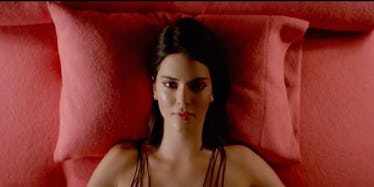 Fergie Drops Music Video For "Enchanté" Starring Kendall Jenner & It's So, So Weird
YouTube
Fergie is back with new music and a new video, with a little help from Kendall Jenner! Fergie's "Enchanté" music video with Kendall Jenner is... well... interesting, let's say. Take a look and you'll get an idea of how trippy the whole thing is.
"Enchanté" is off Fergie's second studio album, Double Dutchess, and in this track, her voice is in top form. Fergie's son, Axl, lends his voice to sing mom's song in the video, too. Holy cute, that kid.
Jenner's role is pretty kooky, as she's seen in a variety of outfits prancing about. But wait... there's more! More Jenner, that is. At certain times in the video, there are multiple Jenners doing various things, in nauseating loops. Is Jenner playing the french horn at one point? Yes, yes she is. The model even lip syncs along throughout.
Fans are definitely into it, with one person tweeting: "Just saw the video. Obsessed with it. The song is fantastic. It's a good song to start your day #GoodVibes @KendallJenner drop dead gorgeous." All excellent points.
Another fan tweeted: "I'm insanely proud of @KendallJenner she did that! I'm in love with the music video, already watched it like 938383 times."
Fergie is getting herself out there too, popping up on The Tonight Show Starring Jimmy Fallon to sing an oldie, but goodie, "My Humps," but in a distinctly different style than you'll remember from her Black Eyed Peas days.
Fergie joined members of The Roots for a bit called Black Simon & Garfunkel Ft. Fergie, after an audience member suggested an acoustic version of the song. Don't hate me, but I like this even better than the 2005 hit.
The singer's career is kicking into high gear again, fresh off the news that she and husband Josh Duhamel split after eight years of marriage. She told ET in a recent interview that everything's good between the two, explaining, "We're great friends, Josh and I, there's so much love that we have for each other. We really like each other, we have fun with each other. We're just not a romantic couple anymore."
She further explained: "But we are still Axl's parents through and through, and our families – each other's families, the cousins, my nieces and nephews – it's all the same. So that's the only thing that's changed."
Fergie's attitude about family and keeping things amicable with her ex make it clear that there's no bad blood between the two, as she noted: "It's just been all love in our family. Our families are families together and that cannot change. That is Axl's family, the cousins, I mean, all of mine, the Duhamels and the Kempers and everybody that I've fallen in love with, they're a family."
Double Dutchess dropped today and Fergie is focused on "touring, bringing the family and enjoying Axl every year," but also explained that she wants to "[make] sure that life is balanced, and I'm open. I'm kind of just an open vessel. Just everything has to be done with love."
The return of Fergie on the music scene has many wondering if a Black Eyed Peas reunion would ever be in the mix. She told ET: "Absolutely. There's a saying, 'You can do it all, you just can't do it all at once,'" adding, "And I used to not think that way. I tried to just do it all at once and I realized, something's gotta give. So I'm not cutting off all, you can do it all but it's just, you know, it's gotta be spread out a little bit more. At least for me."
Check out the entire Gen Why series and other videos on Facebook and the Bustle app across Apple TV, Roku, and Amazon Fire TV.