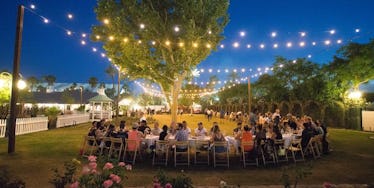 Here's Everything You Missed At Coachella If You Didn't Have VIP Access
Neil Husvar ©Coachella 2017
The Coachella Music and Arts Festival is a magical place. It's everything you see in photos and more. I've lived Coachella vicariously through friends, celebs and random people I follow on social media for years, but this year I actually got to attend.
The first two days were incredible. My co-worker Katie and I were covering the festival and some of the hottest parties, and I'd be lying if I didn't admit it's the most A-list I've ever felt and honestly the coolest I'll probably ever be again.
Those first two days, we snapped pics (soooo many pics), listened to incredible music and took in all the festival fashion. We had very few complaints. We also had general admission wristbands (which involved A LOT of walking).
We learned quickly there are two very different worlds at Coachella. There's the VIP world, and then there's everyone else. Behind the white picket fences of the restricted-access areas of the festival, lies a beautiful sanctuary.
On Sunday, we were invited to attend an Outstanding in the Field dinner with Hoxie wines and world-renowned chefs on the festival grounds. With that invite, came the coveted VIP wristband.
I'm not exaggerating when I say being a VIP at Coachella is 100 percent as glamorous as it seems. Let me show you...
First of all, the VIP areas are markedly less crowded.
Even the bathroom entrances are well-manicured, and lines are practically non-existent (especially compared to the wrap-around lines for the ones on the rest of the grounds).
There's a freakin' rose garden. In the desert. Just let that sink in.
Obviously your food options are way better and way more bougie. Getting more alcohol is simple, too -- just take a leisurely stroll to one of the open bars in a shaded area.
And what about the music? Listen from a comfortable distance with views of the best stages, and when you really want to see someone, saunter on out to the side of the stage (before quickly running back into your gated community).
This is definitely where the celebs congregate, and although we didn't run into any in our short time as VIPs, it was probably just because we were too distracted by the fact that there were charging stations for our phones and water refill stations without a line a mile long.
Oh, and then there was the Outstanding in the Field Dinner, which was described on the Coachella website as "an outdoor desert dining experience like no other. A four-course, family style, seated dinner in a luxurious, shaded setting."
As DJ Khaled took the stage in the background (at a very comfortable Major Key away), we sat down to our incredible meal under white lights in a picturesque corner of the rose garden.
We sipped on an exclusive wine collaboration by Josh Rosenstein of Hoxie Spritzers and Andrew Jones of Field Recordings while feasting on food created by famous LA chefs Alvin Cailan (Egg Slut/Unit120), Nakul & Arjun Mahendro (Badmaash) and Bruce Kalman (Union/Knead & Co. Pasta Bar).
Obviously the food was incredible, as was the wine. And yeah, the fact that I got to try Foxíe, the exclusive rosé spritzer named Cactus Cooler (based on the citrus flavors and desert inspiration), while knowing there were only 86 cases bottled, was kind of the cherry on top of my celeb status that evening.
I'll be honest, being a VIP doesn't feel like the authentic way to experience a music festival like Coachella, but it certainly explains a lot about the perfect snaps I see on celebs' social media. It also explains why celebs are so eager to go back year after year.
I have major respect for the festival goers who spend their nights in tents, trek through the dust to see their favorite artists, stand in lines for hours just to get things like water and go to the bathroom and STILL look every bit of #festivalgoals because being a Coachella queen (or king) is a whole lot easier with those three little letters: V-I-P.