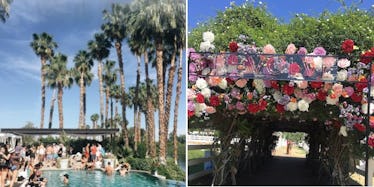 Revolve Threw The Hottest Coachella Party And The Pics Will Make Your FOMO Real
Instagram/Elite Daily
You don't need me to tell you the first weekend of Coachella was a total success -- just check your Instagram newsfeed.
Millions of music lovers gathered in Indio, California, all weekend long to celebrate the world's hottest festival. It was celebrities, fashion bloggers and social media influencers galore.
But what if I told you the best part of Coachella wasn't even on festival grounds? That's right. I got to experience the VIP side of things (I'm not cool, just press) and it was pretty damn unreal... just sayin'.
If you think pics in front of the Ferris wheel are cool, just wait until you see the gorgeous photos from REVOLVE'S incredible festival.
REVOLVE threw the ultimate VIP party all weekend long at the Merv Griffin Estate in Palm Springs, California, and the images are seriously breathtaking.
If you're already having a serious case of FOMO, then I'm sorry to torture you with these travel porn pics.
Complete with a skating rink, aura reading tent, popsicle treats and poolside views, REVOLVE pretty much had it all.
The hottest bloggers and fashion gurus gathered from around the world to make it to this one-of-a-kind weekend festival. Drinks were served at the Heineken bar and guests enjoyed delicious cocktails all night long.
Notable celebrities who attended include Kendall Jenner, Sofia Richie, Alessandra Ambrosio, Elsa Hosk, Shay Mitchell and Olivia Culpo.
In the pics below, you can see more of the incredible backdrops and photo opps available for all guests. Yup, REVOLVE knows how to throw down.
REVOLVE also hosted a pop-up shop the entire weekend for the public. Guests included Jasmine Sanders, Danielle Bernstein, Aimee Song, A$AP FERG, JonBoy and many more.
Speaking of JonBoy, it looks like Hailey Baldwin spent the party getting a new tattoo. Love the fresh ink, Hail.
Thanks for the good times, REVOLVE! We'll see you again next year.