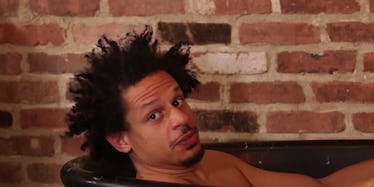 Here's How To Take The Perfect Penis Pic, According To Eric Andre
YouTube
Full disclosure, I've never taken a penis pic in my life. I'm certainly proud of what I'm working with down there, it's just not something I've ever felt compelled to share with a woman, before or after we've been intimate.
Call me old school. I'm more about the in-person experience, I guess.
In any event, I know there are plenty of dudes out there who do feel compelled to send the occasional penis pic to someone they're attracted to. Yes, I'm also aware everyone has a different definition of the word "occasional."
So, if you're going to take and send a penis pic, you better make sure you're not just sending a good penis pic, but the best damn penis pic ever.
Go big or go home, right?
If you've ever thought to yourself, "How do I take the perfect penis pic?" then you'll want to watch the above video of Eric Andre explaining, in full detail, what you need to do to make sure your eggplant emoji game is on level 100.
In the GQ video, Andre explains,
Dick pics don't work, but I'll tell you how to make a perfect one. Get a photographer. Hire someone with a real camera. Lotion -- you don't want your dick to be ashy.
He continued,
Take a full nude, be a man. Face in the frame.
You can get Eric Andre's penis pic advice in full by watching the entire video above. Good luck!
Citations: Eric Andre Shows You How to Take a Better Dick Pic | GQ (YouTube)