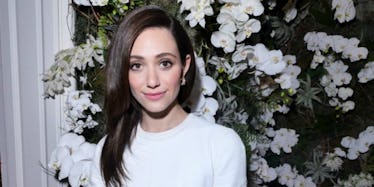 Emmy Rossum Is The Latest Celeb To Have Jewelry Stolen In Home Invasion
REX/Shutterstock
People has confirmed actress Emmy Rossum, best known for her work on "Shameless," is the latest celebrity to face a home invasion.
Los Angeles Police Department's media relations team, along with Officer Mota, have confirmed the commercial crimes department is currently investigating the burglary of Rossum's Los Angeles home.
Officer Mota believes an estimated $150,000 worth of jewelry, along with other items, was stolen from the house.
She was not home during the burglary, but the alleged crime occurred sometimes between last Wednesday and Friday.
Rossum posted on Twitter on Tuesday to thank the LAPD for their work.
While she did not mention exactly what happened, she did write,
Thank you to the LAPD. I fully support the police efforts and dedication.
The break-in was discovered by an employee of Rossum's. The burglars broke into a rear patio window and turned off the alarm before finding and successfully opening a safe.
Other celebrity victims of recent burglars include Alanis Morissette and Lakers player Nick Young.
Morissette had over $2 million worth of valuables stolen, while Young had $500,000. In both cases, their valuables were in safes.
So, I guess those safes weren't too safe.
Sorry. That was totally uncalled for.
Dodger player Yasiel Puig, Lakers' Derek Fisher, Nicki Minaj and Jamie Pressly have also been victims recently.
While the LAPD does not believe these crimes are linked, the break-ins are being investigated by the burglary section of the LAPD Commercial Crimes Division.
It is believed the LA area is experiencing an influx of burglaries due to California prisons releasing non-violent criminals to address prison overcrowding. Celebrities are being targeted because of their swanky homes in rich areas of Los Angeles.
So, don't worry about me. I live in a converted garage and the only jewelry I own is from a discount bin at Forever 21.
Citations: Emmy Rossum Robbed of $150,000 Jewelry in Alleged Home Invasion (People)