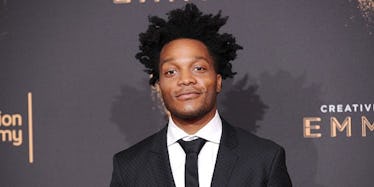 This Year's Emmy Announcer Is Stealing The Show & We're Into It
Jason LaVeris / Contributor / Getty Images
This year's Emmys not only took a political turn (and even included a real-life Sean Spicer cameo), but it also narrated the evening differently from any other event in the past. The 69th annual show decided it wasn't going to keep the emcee anonymous and over a microphone; it was going to make him part of the whole program. This year's Emmys announcer, Jermaine Fowler, is on-camera backstage, and keeping everyone tuned in with what's going on (and to fans' delight, he's even able to step away from the script and crack a few jokes).
Typically, show voiceover announcers are never featured on the air, according to Deadline. Fowler, however, appeared behind-the-scenes and still managed to make his way on TV. He makes some funky dance moves in between categories and freaked out when announcing Insecure star Issa Rae (and who wouldn't?). He's lively, he's fun, and people are totally into this new change. Judging from the response, everyone's feeling the same way as Fowler. If you need some convincing, just check out Twitter, where discussions about him are totally blowing up.
People are pleased with the direction he has taken the position, and some think he deserves an award himself.
Keep doing your thing, Folwer.
For those of you who are unfamiliar with the star, he is the star of CBS' comedy, Superior Donuts, which premiered earlier this year and will return with season two on Oct. 30. The series follows a doughnut shop owner in a gentrifying Chicago neighborhood. Fowler plays Franco, an aspiring artist, who ends up joining forces with said owner, Arthur (played by Judd Hirsch), according to Variety.
In season two, there's a new regular coming to town. Orange Is the New Black and Jane the Virgin's Diane Guerrero will be heading to the sitcom as Sofia, the food truck driver who parks right outside Arthur's and serves organic treats, according to Deadline.
But Fowler's role at the awards show wasn't the only jaw-dropping moment of the evening. Alec Baldwin, who won the Outstanding Supporting Actor in a Comedy Series award for his role on SNL, certainly made things political (after all, he does play Donald Trump).
Baldwin said,
I suppose I should say, at long last, Mr. President, here is your Emmy.
He also commented on the importance of the arts and what it means to people. He concluded his thank-you speech with,
What we do is important. For those in motion pictures and television: Don't stop doing what you're doing. The audience is counting on you.
In the event you weren't around for the very beginning of the show, you know, when the actual Sean Spicer rolled out on his podium to announce that this was the biggest Emmys crowd ever, you missed one heck of a reaction from Melissa McCarthy, who brought the former White House communications director to life with various SNL skits. The after-party is certainly going to be one heck of an event if Spicey sticks around, wouldn't you say?
For those who want to relive this magic at all times, naturally, the internet has gifted fans with what it does best: memes. Are you going to want to skip out on that? No, you're not (duh).
First on the list? Anna Chlumsky's reaction to Sean Spicer.
There were certainly plenty of examples of creativity.
The world wide web showing us the magic.
This was certainly an interesting and fun night for TV fans... and an event that made a statement. Whether or not your favorites won, one thing's for sure: This was definitely a memorable evening.
Check out the entire Gen Why series and other videos on Facebook and the Bustle app across Apple TV, Roku, and Amazon Fire TV.