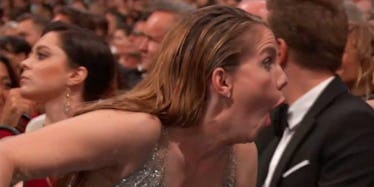 These Are The Best Memes On The Internet From The 2017 Emmys
CBS/YouTube
In 2017, it should be no surprise to anyone that awards shows have yielded some of the most memorable moments in pop culture history. Don't get me wrong, the shows themselves can be dreadfully boring at times, but they definitely have their highlights -- like Leonardo DiCaprio reacting to Lady Gaga walking by him at the Golden Globes (I know you just pictured his face) and Nicole Kidman clapping with her big 'ole grinch fingers at the Oscars. It is in those rare and unique moments during awards shows that meme gold is born, and memes from the Emmys this year are no exception to this rule.
As always, the Emmys is one of the biggest nights in Hollywood and tons of A-listers are present for the event. What better way to celebrate television's most outstanding achievements than by turning the stars we love into comedic relief for the internet.
Because we as a people have become so adept at turning anything into a meme, it's important to constantly be on the lookout during awards shows for the most opportune meme-worthy moments. Whether the guests of honor are reacting to something in their seats, lookin' all crazy during an acceptance speech, or just simply clapping in a way that the internet deems unacceptable, it's our job to mine out the best moments to spark viral memes. Given this year's insanely unexpected moments (*cough* Sean Spicer showing up *cough*), that's not a difficult job. With that being said, this year's Emmys delivered everything we could have asked for and more.
First of all, I'd lose my job if I didn't immediately list Anna Chlumsky's reaction to Sean Spicer's surprise appearance as the best and most important meme to come out of the 2017 Emmys. I mean, think of all the possible captions for this face. They're endless. This, my friends, is what Jesus had in mind when he invented the internet.
Next up, Titus Andromedon's cameo in the opening monologue is perfect for meme making. Titus's reactions and faces are no stranger to the universe of memes, so this one is no surprise.
Of course, we can't forget to call out the Holy Trinity for their new contribution to the meme world.
And Anna is back again with a reaction shot that is sure to find its way into the internet's meme database.
While all of these will definitely be taking over the internet and making us chuckle over the next few days, let's not forget the shelf life of memes is pretty short. To be honest, the shelf life of anything on the internet is pretty short. Having said that, let us take a look back at some of the best memes to come out of awards shows over the past few years.
There's this gem of Leonardo DiCaprio reacting to Lady Gaga walking by him at the Globes.
And this one of Ryan Gosling whispering in a fan's ear at the Oscars.
Winona Ryder's face at the Screen Actor's Guild awards was priceless.
The Best Picture envelope at the Oscars was HUGE.
And I'm still haunted by Nicole Kidman's clapping, if that's what you call it?
Cardi B's face at the VMAs was meme gold
And Amy Poehler's relaxed look had the internet crackin' all kinds of jokes.
And, of course, who could forget the mother of all memes, the goddess whose reactions could fill a coffee table book, Chrissy Teigen?
Hopefully we caught all of the best memes to be born of the 2017 Emmys, but, as usual, you can never be 100 percent certain what's going to catch the internet by storm. Hopefully, we'll be using these memes for years to come.
Check out the entire Gen Why series and other videos on Facebook and the Bustle app across Apple TV, Roku, and Amazon Fire TV.