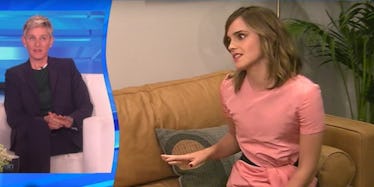 Emma Watson Interviews Nanny For Herself Just Like Corinne From 'The Bachelor'
YouTube
Ellen DeGeneres and Emma Watson need to team up for a celebrity prank show.
While doing promotional appearances for "Beauty and the Beast," Emma Watson took some time to stop by "Ellen" and pull a vicious prank on a completely oblivious job-seeker thinking she was inches away from landing a job as Emma's personal nanny a la Corinne from "The Bachelor."
The video is absolutely devious.
The clip features Watson taking directions from Ellen through an earpiece as she interviews her "perspective" employee.
After critiquing her choice of seat, Emma proceeds to brag about using the potty by herself, laughed for no reason for an ungodly long time, cried, licked a giant lollipop and then gave herself positive affirmations in the mirror all in an effort to weird out the nanny hopeful.
Emma Watson seems like a pretty nice person, so kudos to Ellen, who is a professional bad influencer at this point in her career, for getting her to participate in the prank.
Which brings me to my next point: Why the hell does Ellen not have a professional prank show lined up?
I would watch the crap out of a series where Ellen just gets her celebrity friends to freak out unsuspecting normal people.
Hell, I'd even buy an Amazon Prime account if that was the only way I could watch it, and that is a BIG statement because I'm pretty sure nobody actually has their own Amazon Prime account.
"Beauty and the Beast" is set to be released in two weeks.
The classic animated film's live-action reboot is already making headlines as it will be the first Disney movie to feature an openly gay character, LeFou played by Josh Gad.
During an interview about the movie, director Bill Condon told Attitude magazine,
LeFou is somebody who on one day wants to be Gaston and on another day wants to kiss Gaston. He's confused about what he wants. It's somebody who's just realizing that he has these feelings. And Josh makes something really subtle and delicious out of it. And that's what has its payoff at the end, which I don't want to give away. But it is a nice, exclusively gay moment in a Disney movie.
"Beauty and the Beast" hits theaters on March 17.
Citations: Emma Watson Interviews a Nanny With Ellen DeGeneres in Her Ear and Hilarity Ensues (E!)