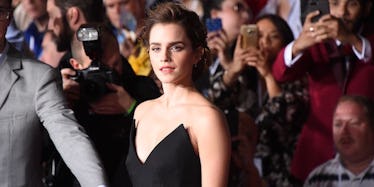 Emma Watson Stopped This 'Beauty And The Beast' Interview For The Best Reason
REX/Shutterstock
Emma Watson is a UN Women's Goodwill Ambassador who has long rallied in the name of feminism, but the greatest thing she's ever done for womankind might be rubbing a pen smudge off a reporter's face mid-interview.
While Emma and "Beauty and the Beast" co-star Dan Stevens were chatting with an interviewer from Spanish TV platform Moviestar+, she interrupted Dan to help a sister out.
Emma said,
I'm so sorry. Can I stop you? I'm so sorry. You would do this for me and I would do this for you. You've got pen on your chin and you're gonna be so sad when you see this… I just have to do this for you.
The 26-year-old wiped the pen away herself and called for her makeup artist, Amanda, to cover the area with concealer.
She told the interviewer,
No! Don't be embarrassed! No!
Even in her most casual moments, Emma Watson is an ally to her fellow ladies.
In a recent feature in Vanity Fair, it was revealed Gloria Steinem considers Emma "way more like a real person than a movie star."
Bell Hooks shared the same sentiment, telling the magazine,
In so many ways she's not like we think of movie stars… She's [part of] a very different, new breed who are interested in being whole and having a holistic life, as opposed to being identified with just wealth and fame.
When two legendary feminist trailblazers consider you a chill hang, you know you're living right.
Gloria freaking Steinem also loved Emma's portrayal of Belle. She told VF,
It was fascinating that her activism could be so well mirrored by the film… It's this love of literature that first bonds the Beauty to the Beast, and also what develops the entire story.
Em and Glor: two best friends saving the world from injustice, illiteracy and chinbarrassment.
Citations: Emma Watson Just Proved She's The Nicest, Most Down-To-Earth Celebrity There Is (BuzzFeed)