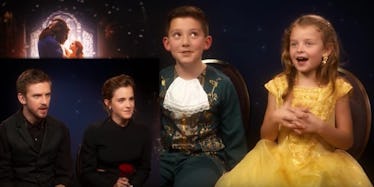 Emma Watson's Reaction To Mini Belle And Mini Beast Is So, So Adorable
YouTube
Emma Watson got to chill with a pint-sized version of herself, and it was absolutely adorable.
One of the best parts of Disney giving "Beauty And The Beast" a live-action reboot is the story is now being introduced to an entirely new generation. Kids who may have written off Disney's 1991 animated classic now get a chance to experience the film with a fresh cast, new songs and slightly altered storyline.
In honor of this, Disney had a special surprise for Emma Watson (Belle) and Dan Stevens (The Beast) waiting for them during a recent interview.
In the video, Emma Watson and Dan Stevens meet the mini versions of themselves, Olivia and Ted, dressed in full "Beauty and The Beast" costumes.
It wasn't just a cute meet and greet, though. It didn't take long for the two mini-BATBers to get down to business and ask some hard-hitting questions about the film.
When Olivia asked Watson what it was like to play Belle, she responded,
It was my childhood dream come true. She was one of my absolute favorites and I watched the film a million times, over and over again as a child. To wear the dress and sing the songs and be part of it was just amazing.
Ted asked the two who they would play in the movie if they could play anyone else, and they automatically responded with each other's roles.
Stevens explained,
I'd love to play Belle, look at that dress!... I love your boots, that's very 'your' Belle. It's a mixture of a beautiful princess dress with cool, practical boots.
When it comes to playing Belle, Dan isn't wrong. The experience may have actually been too good.
Emma joked during and interview,
To be honest, it was a bit concerning for me. I was like 'I'm 26 and I've peaked.' There is never going to be a more romantic moment in my life. The dress will never be more beautiful. The ballroom will never be more beautiful. I will never be performing a full 5-minute waltz with my potential romantic love interest.
Thoughts and prayers for Emma Watson and her love life.