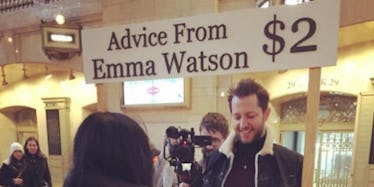 Emma Watson Gave Life Advice To Commuters In Grand Central Station For $2
How much money would you pay to have Emma Watson give you advice?
Keep in mind, this is Hermione we're talking about. If anyone could turn your life around it's Hermione Granger. So I'd say that's definitely worth $2. Heck, I would pay $2 just to have Emma Watson make eye contact with me.
Well, on Tuesday some lucky commuters in New York City got the chance to make their Valentine's Day a lot more magical.
The 26-year-old "Beauty and the Beast" actress was spotted at Grand Central Station... sort of.
Emma was only "in" Grand Central thanks to Vanity Fair's "Man on the Street" Derek Blasberg, who was carrying a make-shift travel booth with an iPad and a sign that said, "Advice From Emma Watson, $2."
One lucky traveler who happened to be in the right place at the right time wrote on Instagram,
So I just 'ran' into Emma Watson at Grand Central giving advise for $2 through an iPad booth...
Emma appeared to be on a video call on the iPad, and commuters were filmed chatting with the actress via webcam.
No one really seems to know why Emma was doing this or where that money will be going.
Since you can see camera men and boom mics present in some of the photos posted by bystanders, I think it's likely we'll soon find out in an upcoming Vanity Fair video.
The actress is starring in an upcoming thriller film with Tom Hanks about technology, "The Circle," so perhaps it had to do with promoting that.
The film paints a not-so-flattering light of the digital age, but I don't know. Any era where I can instantly talk to Emma Watson no matter where she is in the world, for the price of a cup of coffee, seems like a pretty good time to live in to me.
Citations: Emma Watson called into an iPad to give commuters $2 advice (Mashable)