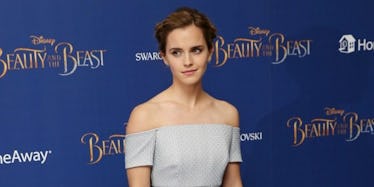 Emma Watson Has A Boyfriend, But You'll Never Find Out Who He Is
REX/Shutterstock
Emma Watson is in love and you're not part of it, you big creep.
The "Beauty and the Beast" actress mentioned her boyfriend — whom Vanity Fair said the internet claims is "called Mack," is "handsome" and "works in tech in Silicon Valley" — in an interview for the magazine's March issue, though she kept it vague.
After all, according to Emma,
Privacy for me is not an abstract idea.
This girl likes to keep details of her relationship close to the vest because the ease of her daily life kind of depends on it.
She explained,
I want to be consistent: I can't talk about my boyfriend in an interview and then expect people not to take paparazzi pictures of me walking around outside my home. You can't have it both ways… I've noticed, in Hollywood, who you're dating gets tied up into your film promotion and becomes part of the performance and the circus. I would hate anyone that I were with to feel like they were in any way part of a show or an act.
Aw, so she keeps it quiet for him, too. That's love. That is real, mysterious, unconditional love.
Mack isn't Emma's only escape from the rest of our thirsty asses. She also appreciates a good book.
What? You thought it was going to be something crazier? Like psychedelics or bear wrestling? It's a book, weirdo. Read one about psychedelics or bear wrestling. It's called research.
Emma told VF she considers reading "sacred," and not just because of the series whose film adaptation launched her career.
She said,
Books gave me a way to connect with my father… I just remember him reading to me before bed and how he used to do all the different voices. I grew up on film sets, and books were my connection to the outside world. They were my connection to my friends back at school because if I was reading what they were reading we'd have something in common. Later in life, they became an escape, a means of empowerment, a friend I could rely on.
Sweet Lord of all things precious and fantastic… books are the best. It's also somewhat satisfying to hear the woman who played Hermione Granger — Hogwarts' smartest witch ever, probably (don't @ me) — and Belle get choked up over her profound love of literature.
In many ways, it's as though books are Emma's greatest love.
LOL, kidding. It's probably Mack.
Citations: Cover Story: Emma Watson, Rebel Belle (Vanity Fair)