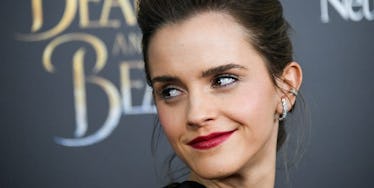 9 Times Emma Watson Was The Best-Dressed Person On The Planet
Getty Images
On June 26, 1997, Harry Potter and the Philosopher's Stone was released. 1997 was twenty years ago, guys. Screams of horror over your age aside, this series has given us so much.
The Harry Potter series has brought books, movies, and amazing characters. One of my favorite results of the series is it brought Emma Watson into my life. Watson was introduced as Hermione Granger when she was just a kid.
Since then, Watson has grown up into an incredible woman. Besides recently starring in Beauty and The Beast, she's a model feminist. Emma became a UN Women Goodwill Ambassador in 2014, according to unwomen.org.
Reading about everything Watson has accomplished makes me feel tired, TBH. Glad there's people like her doing it so I can keep watching Friends over and over again on Netflix.
In addition to being an overall flawless human, the way she dresses is unreal. Every single time she hits the red carpet, people are talking about it. This barely scratches the surface, but these nine pictures prove she's the best-dressed person on planet Earth.
1. The Circle Press Tour
Watson looks flawless rocking high-waisted pants and an off-the-shoulder top for her press tour in Paris. This is everything I strive to be, but will probably never accomplish.
2. Florals In Paris
This is another look she rocked during her recent press tour for The Circle in Paris. I'm not sure what's even going on here, but I'm obsessed and must have it. It's like a kimono meets dress meets T-shirt, and it's working.
3. Chic Yet Casual
OK, this will be the last one from the Paris press tour, scouts honor. She just rocked so many good looks. This casual outfit is adorable and super chic. Of course, it's high-end and the designer specializes in sustainable clothing. Way to do your part, Em!
4. Rocking Dior Couture
Couture can be tricky because it's not exactly street-wear friendly. Emma Watson looks so glam in Dior. Also, where can I get those shoes? They're worth a month or two of rent.
5. Beauty and the Beast Red Carpet Looks
Beauty and the Beast had countless red carpets. Watson rocked every. single. one. From soft nude to sleek black, her choices were diverse but equally gorgeous.
6. MTV Movie Awards Red Carpet
This is a tough red carpet look to pull off. Some celebs try to go way too trendy. Watson somehow pulled off the perfect balance of edgy and chic.
7. Sustainable Looks
Although the term "sustainable fashion" doesn't sound super sexy, Watson proves that wrong. She always rocks eco-conscious designers on the red carpet.
8. Hanging With Famous Friends
This look was when she presented at the British Fashion Awards with Harry Styles. How gorgeous do these two Brits look together?
9. Fairy Tale Fashion
How does she always look like a fairy tale princess? But, like, an ivy league princess.
Emma Watson is definitely fashion goals. I'm so glad Harry Potter brought her into my life. Thanks, J.K. Rowling!