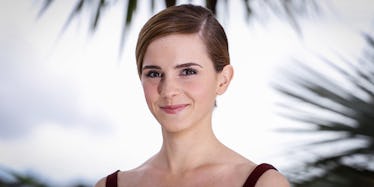 Emma Watson Set To Make An Insane Amount Of Money From 'Beauty And The Beast'
REX/Shutterstock
So guys, I saw "Beauty And The Beast" last night, and all I have to say is this: GET YOUR ASS TO A THEATER IMMEDIATELY.
It was SO great. The visuals were amazing, the beast was BAE and Emma Watson was literal PERFECTION as Belle. I couldn't stop fangirling over it.
But don't just take MY word for it: The movie's already made $64.1 million on OPENING DAY itself.
This means it's number three on the list of most successful March first day openings, surpassed only by "The Hunger Games" ($67.3 million) and "Batman v. Superman" ($81.55 million).
Yeah, you guys: That movie's MAKING BANK.
And so will Emma Watson.
There's been so much talk about the wage gap in Hollywood lately, particularly with Jennifer Lawrence calling out the fact that she made DRASTICALLY less than her male co-stars in "American Hustle".
Although it's not known how much Emma Watson's co-stars, Luke Evans (Gaston) and Dan Stevens (the Beast), were paid for this movie, the way Emma's payout has been set up is DEFINITELY something to be excited about.
She was paid a sizable $3 million upfront for the movie. BUT THAT'S NOT ALL.
Depending on how well the movie does at the box office, she could stand to earn more... a HELL OF A LOT MORE, to be precise.
According to Hollywood Reporter, she also earns a share of what the movie makes at the box office. And that $64.1 million I told you about? Well, that's nothing compared to what the movie is expected to earn OVERALL.
It's expected "Beauty And The Beast" will rake in about $750 MILLION. This is similar to the amount of money made by "Maleficent" ($759 million) and "Cinderella" ($544 million).
So, how much could Emma stand to earn if "Beauty And The Beast" continues killing it at the box office? FIFTEEN MILLION DOLLARS.
I guess this was totally worth turning down "La La Land" for.
Citations: Deadline, Hollywood Reporter