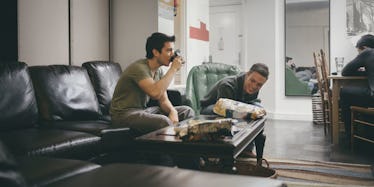 Angelina Jolie Reveals That The Controversial Scene In 'Maleficent' Is A Metaphor For Rape
Stocksy
Angelina Jolie's newest film, "Maleficent," garnered a lot of buzz for focusing on the character of the movie's villain-turned-protagonist, the evil queen who cursed Sleeping Beauty's baby Aurora.
Jolie recently confirmed that one controversial scene in the film — in which Maleficent's former lover (who became Aurora's father) drugged her and cut off her wings — serves as a metaphor for rape.
We were very conscious, the writer and I, that [the scene in question] was a metaphor for rape. The core of ["Maleficent"] is abuse, and how the abused have a choice of abusing others or overcoming and remaining loving, open people.
Jolie told BBC Radio 4 that such a twist was needed to humanize Maleficent's character, to make sense of her vengeful behavior and to show how a beautiful fairy turned into a seemingly wicked witch.
The question was asked, 'What could make a woman become so dark? To lose all sense of her maternity, her womanhood, and her softness?'
This definitely provides a lot of context for "Maleficent" fans, but I'm not sure what message it leaves for rape victims: that your sexual assault experience can transform you into someone evil, ready to lash out at the nearest innocent bystander?
H/T: The Huffington Post, Photo Courtesy: Twitter