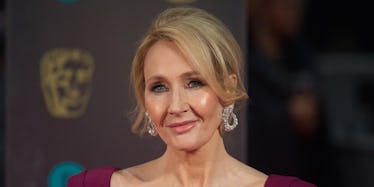 You'll Need To Accio Tissues For J.K. Rowling's 'Harry Potter' 20th Anniversary Tweet
Samir Hussein/GETTY
Harry Potter fans, I have good news and bad news for us all.
The bad news is today, June 26, is the 20th anniversary of Harry Potter and the Philosopher's Stone publication, and that means we are all very old.
Seriously, let that sink in for a second. On this day in 1997, children across the UK became some of the very first to read about Mr. and Mrs. Dursley of number four Privet Drive.
(American children would have to wait until 1998 for Scholastic to publish Sorcerer's Stone in the United States.)
So that's the bad news: aging, entropy, and the unstoppable passage of time.
The good news is this tweet from J.K. Rowling on Monday morning commemorating that 20th anniversary. (Warning: Get ready for all the feels.)
The now world-famous author wrote on Twitter,
20 years ago today a world that I had lived in alone was suddenly open to others. It's been wonderful. Thank you.
Jo, I think I speak for everyone reading this article when I scream back, "NO, THANK YOU!"
In honor of the book that shaped a generation of believers, fans are following Rowling's lead and sharing what Harry Potter means to them, with the hashtag #HarryPotter20.
(And fine, yes, maybe I did cry going through these tweets. SUE ME.)
The phenomenon that defined a generation all began with one boy who lived.
Harry has taught us so many values.
He taught us that the real magic is the magic of reading.
And it's not "just Harry" — every character has a lesson to teach.
And even though 20 years seem to fly by...
...we know the magic will never truly over.
Not as long as those who remain are loyal.
Phew, 20 years, Potterheads.
Twenty years ago, a book J.K. Rowling spent years on finally reached the rest of the world. And the world has always been a little bit more magical since.
Here's to another 20 years of magic!