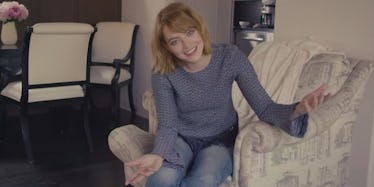 Emma Stone Says Ryan Gosling Is Actually 'Bloodthirsty' In Real Life
Vogue
Oh yeah, wait, Emma Stone is really charming.
She's Anne and she's Gilda and she's palatably awkward in the degree we all think we're achieving when we tell a long, ramble-y joke to a group of acquaintances that just ends up causing everyone to make that "yeesh" face.
It's a tightrope of quirkiness many of us give up on walking most days, but Emma's answers to questions like, "If you could live in any era, what would it be?" somehow make this installment of Vogue's sometimes stilted "73 Questions" series super winsome.
FYI: The 27-year-old claimed she always thought she'd like to live in the '20s, until she realized "it's kinda easy to idealize times and forget about typhoid."
COLOR ME ENCHANTED, EMMA, COLOR. ME. ENCHANTED.
Sure, she plays the recorder and puts a raincoat on her dog...
But she also playfully drags Ryan Gosling's reputation through the mud, and that deserves some credit.
When asked what her "La La Land" co-star is "really like, in person," Emma tells viewers,
Bloodthirsty… and vengeful.
Yeah. That seems like a well-founded assessment, tbtfh.
The pair's upcoming Damien Chazelle film is a musical comedy-drama in which Emma and Ryan play an aspiring actress and a jazz pianist who fall in love in Los Angeles. The film has already received some great buzz, despite Ryan's off-screen murder sprees, or whatever.
During a recent visit to "The Ellen DeGeneres Show," real, live angel from heaven John Legend, who appears alongside Emma and Ryan in the movie, shared,
The film is getting Oscar buzz, yes… It was fun. We had a great time. I wrote a song for it. My company executive produced it as well, so we had a lot of fun making that.
Ooh, there's about to be SO much singing, people. Oscar-worthy singing.
Rounding out her "73 Questions" segment with a little music, Emma nails a Britney Spears impression ("Hit Me Baby One More Time," not "Oops!… I Did It Again," obviously).
She also generously admits she's cried in front of Tom Hanks. You know, rather than to footage of Tom Hanks, like the rest of the world.
Oh, Emma. Never change. Never surrender. Never stop verbally bashing sweet Ryan Gosling for shits 'n giggs.