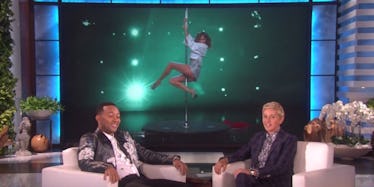 Chrissy Teigen Did A Horrible Pole Dance But John Legend Was Majorly Turned On
YouTube
John Legend is having "a lot of fun" everywhere he goes, and frankly that's all America ever wanted for this man.
Registering voters? Fun.
Shooting a feature film? So fun.
Hangin' with baby Luna? Very, VERY fun.
The singer, whose speaking voice is smooth like peanut butter soup, stopped by "The Ellen Show" this week to, you know, just chat about life and work and his beautiful family. The usual.
Last month, dream woman Chrissy Teigen shot a "Magic Mike" parody with the host called "Magic Michelle," and while her performance was flail-and-flop enchantment on a whole new level, John said he was still pretty turned on by his wife's performance.
He told Ellen,
I told [Chrissy], 'You're so sexy that even when you're trying to be anti-sexy you're sexy.'
Duh. She's very sexy. He's very sexy. She thinks he's sexy. He thinks she's sexy. How else do you think they made that adorable smushball, Luna.
John shared,
Luna is adorable… She's pretty chill, so far. And I'm the chill one, of course… Luna, she smiles a lot, she's… got a good temperament so far. We're knocking on wood though, because you never know. We've got time. They say the twos are terrible. She's only six months, so we'll see.
No way anyone who looks like a delicious human ham could ever be terrible.
With a baby as chill as Luna, John and Chrissy are able to help out with the Clinton campaign, even if it means traveling.
He said,
I was in Ohio on Sunday. We were registering people to vote. We went to some college campuses and registered kids to vote. Chrissy and I went to Nevada and did the same thing. We've been having fun out there.
Honestly, I'm ashamed of all of us who haven't taken a moment to at least swing by a phone bank and offer up an hour or two of our time. If John can campaign for Hil while working on a feature film Ellen insisted is already getting "Oscar buzz," the rest of us have no excuse.
Oh, yeah, aside from raising his adorable ham baby and ushering in the dawn of the first woman-led American era, he's shooting a movie with Ryan Gosling and Emma Stone that already has critics amped.
He admitted,
The film is getting Oscar buzz, yes. It's called 'La La Land.' It's a musical. It's based in LA and it's about two artists moving to L.A. to make it and they fall in love… It was fun. We had a great time. I wrote a song for it. My company executive produced it as well, so we had a lot of fun making that.
John's whole life is p. fun, clearly, though is there any reality in which John Legend doesn't deserve constant, gentle, responsible fun? No. There isn't. John is made of velvet and kindness. Let him have his fun.