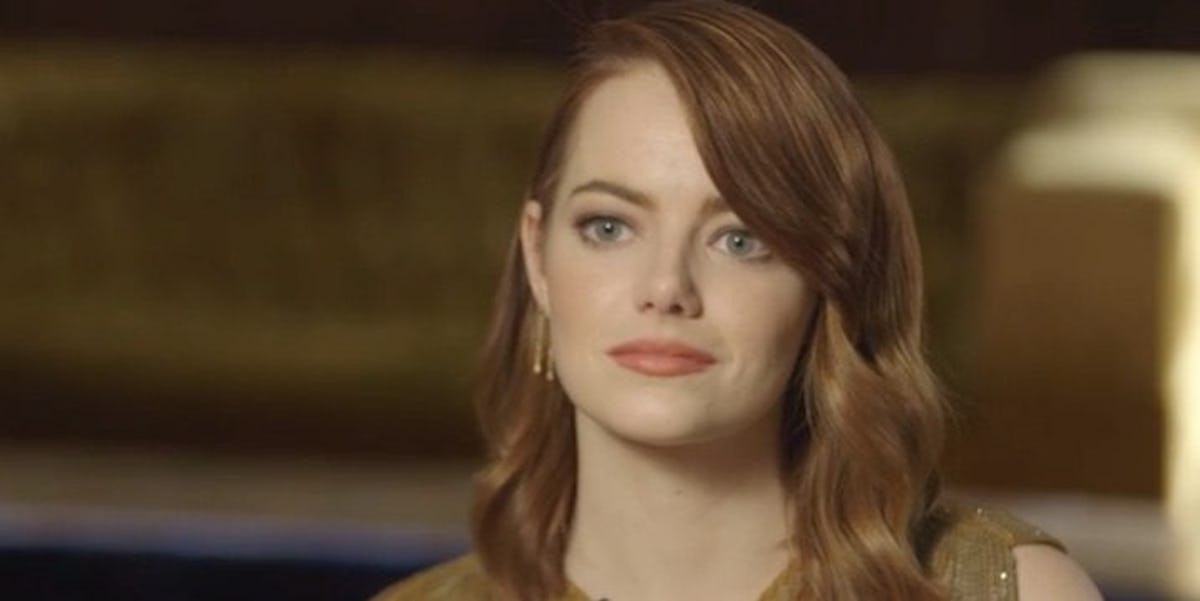 Emma Stone Perfectly Impersonates Ryan Gosling Without Saying A Word
YouTube
Emma Stone does an amazing Ryan Gosling impression, I guess.
The "La La Land" actress was called upon to impersonate her co-star during a game of "Fishing For Answers" with The Hollywood Reporter.
K.
Emma also opened up with fans (TYSM, Em, we feel so much closer to you now) by sharing some fun tidbits about her early days in Hollywood and and a few of her faaavorite things.
The Oscar nominee told viewers,
The first thing that I did — if we mean Hollywood as in an industry — I was on a reality search competition called, 'In Search of the New Partridge Family.' My first actual job in Hollywood proper was working at Three Dog Bakery at the farmers market.
It's true. Emma belted out power-bitch power-anthem "Bitch" by Meredith Brooks in an attempt to earn a spot on the '70s sitcom reboot.
These days, she's into simple pizza and the word "fuck."
Emma shared,
Favorite curse word? FUCK… What do I like on my pizza? Just cheese. I like cheese, just alone. When I was a kid I used to order, as a special treat, the Pizza Hut pizza — the stuffed crust pizza — with extra cheese. So, just to give you some context, that's a slab of cheese with more cheese in it and a tiny bit of bread sprinkled in.
Back in the day, when Em was full of cheese and ready to rage, she saw her first ever live concert courtesy of the Dixie Chicks.
She added,
Shows my age. I was born in 1942!
That reads. Then again, all of us could use a Dixie Chicks concert every once in a while. We all deserve the chance to sway in a sweaty mass and sing our hearts out about lost love, following our dreams and exacting murderous revenge on our cheating husbands (when appropriate*).
*Always
Citations: Emma Stone's Ryan Gosling Impression Is Truly a Sight to Behold (Popsugar)