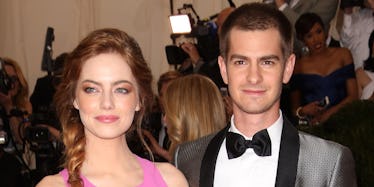 Emma Stone On Her Breakup With Andrew Garfield: Single Life Is 'Sad'
REX/Shutter
Emma Stone and Andrew Garfield were always private about their relationship when they were together.
Now, over a year after that relationship ended, not much has changed. You know, other than the fact they aren't together anymore.
Recently, Emma sat down with Vogue to talk about many things — like her childhood, equal pay for women and her upcoming role in the fantastical movie-musical "La La Land."
She also, very briefly and reluctantly, talked about her ex-boyfriend Andrew Garfield.
Perhaps Emma thought a year might be long enough for everyone to just drop it already. Unfortunately, Emma thought wrong.
(Emma, have you learned nothing from Jennifer Aniston? To quote your co-star Ryan Gosling, "It still isn't over.")
Anyway, I never said I wasn't part of the problem, so here's the quote.
After referring to Andrew as "someone I still love very much," Emma described her year of single-dom as both "good" and "sad." She said,
It's been interesting. It's been a good year. And sad. Pros and cons.
So there you have it, folks! Emma Stone and Andrew Garfield were together once, now they aren't and like all human relationships, emotions are vast and complicated.
In other news, when Emma was 17 years old, she went to a party at Paris Hilton's house and saw someone puking in a closet. She said,
I don't remember who it was, but I was like, 'Do you think that's a bathroom? Or is the line too long?'
Isn't it nice to imagine Paris Hilton discovering a pile of vomit in one of her closets? (I know, I know, some housekeeper probably cleaned it up long before she ever saw it. But isn't it nice to imagine?)
Also, apparently a hotel worker performed emergency surgery on her the night she starred in "Saturday Night Live's" 40th anniversary show.  She said,
I'd taken off my shoes to dance because I am one of those people who dance at parties. And I stepped in broken glass. It was embedded into my heel. I walked off and was bleeding all over the place. [Someone from the Plaza Hotel] grabbed a knife and took the glass out of my foot. I swear to God. And then 60 seconds later, one of the SNL people was like, 'Prince is onstage. Do you want to go on and play the tambourine?'
So she did. (The video of the performance has been taken down, but you can listen to Jimmy Fallon describe the entire night, which is almost as good.)
The Vogue profile does more justice to all of these stories than I ever could, and Emma seems like a truly chill Hollywood celebrity, so I definitely recommend giving it a read.
Citations: Emma Stone Takes the Biggest Leap of Her Career With La La Land (Vogue)