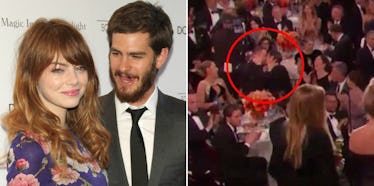 Emma Stone Had The Best Reaction To Ex Andrew Garfield Kissing Ryan Reynolds
REX/Shutterstock/Twitter
What would I do if I saw my ex-boyfriend kissing another dude?
Hmm, let me think. Well for starters, I'd probably grab some popcorn and text my friends, "I told you so."
Then, I'd probably bawl my eyes out because that means he's cleary moved on from me.
On Sunday night, Emma Stone got to watch her ex-boyfriend Andrew Garfield lock lips with Ryan Reynolds at the Golden Globes.
Yup, I'm sure that was a treat for her (and for all of us).
When Ryan Gosling won Best Actor in a Musical or Comedy film for "La La Land" over Ryan Reynolds, the "Deadpool" actor took matters into his own hands.
He leaned over and shared an intimate smooch on the lips with his good pal Andrew Garfield. Do you see it? Can you spot them?!
Here, let me show you.
Let's watch the magic happen one more time. SHUTUP, JUST ONCE MORE.
DAMN. THAT'S HOT, RIGHT?  PLZ TELL ME THEY USED TONGUE. LOL. (Just joking -- I'm not that creepy!!! He he he he he.)
Anyway, after the awards show, Entertainment Tonight's Kevin Frazier had the chance to talk with Emma Stone and Ryan Gosling about their big "La La Land" wins.
The host decided to show Emma the video of Ryan Reynolds kissing her ex.
At first, the 28-year-old actress didn't believe the two men really kissed. She said to Frazier,
What? They did not kiss each other!
Once Emma Stone actually saw the footage, she commended the actors and said it was "hilarious."
Gosling also responded to the kiss and said,
I mean, I'm happy for them, honestly, you know? Good for them.
Emma admitted she was happy for them, too. What a supportive ex-girlfriend!
Honestly, if I saw my ex make out with a broomstick I'd probably be pissed.
I HAD YOU FIRST, BABY. Don't ever forget it.
Citations: Emma Stone Reacts To Andrew Garfield Kiss (ET Online)