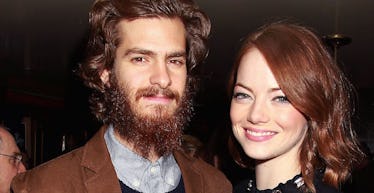 Emma Stone And Andrew Garfield Got High At Disneyland And Things Got Wild
REX/Shutterstock
I have to be honest -- I've never listened to Andrew Garfield talk in an interview, but after hearing his latest, I'm obsessed.
The 33-year-old actor sat down with W magazine for their "Screen Tests" series to retell a hilarious story about a time he got high at Disneyland with ex-girlfriend Emma Stone.
About four years ago, the couple went to California to celebrate Andrew's 29th birthday.  They were accompanied by eight of Andrew's closest friends, and the whole gang ate pot brownies to enhance their experience.
The actor used the word "heaven" to describe the day with Emma Stone. He explained,
My 29th birthday, weirdly, was perfect. It was heaven. I was with my favorite people in the world, I was with eight of my closest friends -- I'm just gonna tell you this straight up -- they came to LA to surprise me... we went to Disneyland and we ate pot brownies. It was literally heaven.
The story doesn't stop there, though. Things get even crazier.
Andrew discussed what it was like to go on all the rides while completely stoned. He shared,
How about Space Mountain three times in a row? And I freaked out on "It's A Small World."
He grabbed his face and continued,
 I was like, 'It is a fucking small world.'
Uh, where was my invite to this? Getting high with Emma Stone and Andrew Garfield at Disneyland sounds like a dream.
My favorite part of the story is when Andrew talked about their oblivious tour guide. He said,
And we had this girl called Chantelle -- god bless you, Chantelle, wherever you are -- she was our guide and I think she was that innocent and pure of heart that she had no idea we were on drugs.
God bless you, Chantelle. God bless you.
You can listen to Andrew's hilarious interview in the video above.
Citations: Andrew Garfield And Emma Stone Got High At Disneyland (E Online)