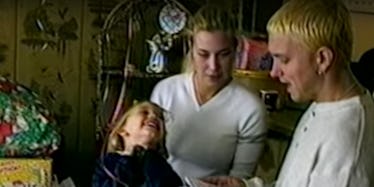 Eminem's Daughter From 'Mockingbird' Is 21, So That Makes You... Old
YouTube
Listen, I have plenty of reminders I am old.
I got invited to my 10-year high school reunion earlier this week, sometimes I wake up in pain and the injury isn't from blacking out, it's from "sleeping weird," and I don't really understand how Snapchat works.
But finding out Hailie Scott, Eminem's daughter and subject of the music video "Mockingbird," turned 21? That's the final straw -- I plan to write my will and testament this weekend.
Yes, 1995 was a long, long, long time ago...  And Hailie is not the little girl who needs to be told to straighten up and to keep a stiff upper lip anymore.
Hailie was Homecoming Queen in high school and graduated with a 3.9 GPA, currently attends school at Michigan State University and is officially old enough to have an alcoholic beverage.
She also has a pretty cute boyfriend. AWWWW...
Despite being the daughter of one of the most popular living rappers, Hailie has a pretty normal college student life. Most of her pictures on Instagram feature her best friend or her boyfriend.
But she's still the most important part of her father's life.
Eminem said,
Hailie has been my main source of drive, a motivation, especially when she was first born and I didn't have a career, I didn't have money, I didn't have place to live, so I think that really kicked me in the ass harder than anything.
Hailie credits her parents to her success in life and academics. Her high school yearbook read,
My mother and father are because they have pushed me to be the person I am and have given me all the support to achieve what I have.
Eminem certainly raised his biological daughter well! The rapper adopted Hailie's older cousin Alaina with his then-wife Kim after her parents couldn't care for her. Alaina's real mother is Kim's twin sister.
He also has full custody of Hailie's younger sister Whitney from Kim's relationship with another man.