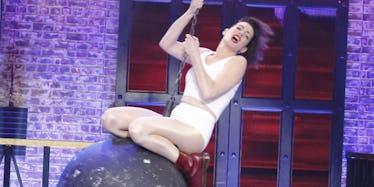 Anne Hathaway And Emily Blunt Reunite For Epic 'Lip Sync Battle' (Video)
Spike TV has a surprise hit show inspired by Jimmy Fallon called "Lip Sync Battle," and it's hosted by the incomparable LL Cool J (primarily known for his work as a shark-hating cook in the seminal film "Deep Blue Sea").
This week it brought in "Devil Wears Prada" costars Anne Hathaway and Emily Blunt to face off in a deadly contest of mouthing words at each other.
The night culminated in Emily Blunt performing "Piece Of My Heart" by Janis Joplin in a very furry outfit and Anne Hathaway taking the win with a very physically demanding rendition of Miley Cyrus' "Wrecking Ball."
Also, it appears Emily Blunt had a sore throat during the event, but thankfully, considering the show, that mattered in absolutely no way.
You can view their other face off here if you were left wanting more: