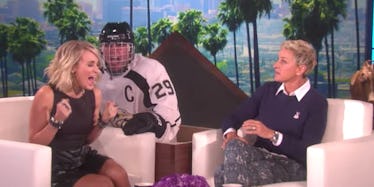 Ellen DeGeneres Scares Carrie Underwood Beyond Belief And It's Hilarious
YouTube
What better way to celebrate Carrie Underwood's tenth appearance on "The Ellen DeGeneres Show" than to scare the life out of her?!
That's exactly what Ellen did... and Carrie never saw it coming.
The 33-year-old took some time from her busy schedule to hang out and chat it up with Ellen DeGeneres. Now, if you've ever watched "Ellen," you know that the show can be quite unpredictable.
Ellen's always got a few tricks up her sleeve for her talented guests who dare to join her on her daytime talk show.
When Carrie Underwood stopped by to mark her tenth appearance on "Ellen," the 58-year-old host decided to take a nice trip down memory lane before scaring Underwood beyond belief.
The queen of pranks Ellen DeGeneres started off by saying,
This is your 10th appearance on the show. It's less than one a year, so we've missed you on a couple shows. But 10 appearances on the show, that's [a big deal]. The first appearance on the show -- do you remember it?
She then proceeded to show Carrie an old photo from her very first appearance on the Emmy award-winning show.
Underwood replied,
Oh, my goodness! Oh, my goodness! Well... all right!
It's obvious that she was a little embarrassed, but not more embarrassed than she was after screaming on national television thanks to an old-fashioned Eric Andre-style prank.
After gushing over the nostalgic photo from ten years ago, Ellen said,
I feel like I should give you a gift of some sort. I don't know what it should be, but...
And that's when it all went downhill for Carrie Underwood as she screeched nearly loud enough for the sound on your TV to go out.
Can you blame her? I mean, it's not every day that a hockey jersey-wearing psycho pops out of a "table" just inches away from you.
Well, if it is every day that this happens to you, my thoughts and prayers are with you. That sounds so stressful.
Aw, Carrie and Ellen, what a special moment! Thanks for the laughs. I can't wait to see how you celebrate the singer's twentieth appearance on "The Ellen DeGeneres Show."
Check out the hilarious video above for a closer look!
Want to see more of Ellen hilariously scaring her guests? Check out this out.
Citations: Ellen DeGeneres Scares Carrie Underwood—and the Singer's Scream Is Everything (E! Online)