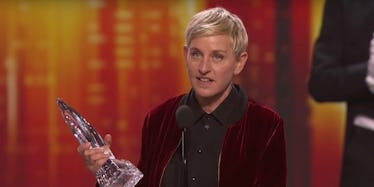 Ellen DeGeneres Breaks Record With 20 PCAs, Makes Speech About Mashed Potatoes
YouTube
Ellen DeGeneres has been smashing records and expectations for nearly four decades, and she's not about to stop now.
On Wednesday, Ellen made entertainment history by breaking the record for People's Choice Awards wins.
The 58-year-old comedian won three awards at Wednesday night's award show, bringing her total PCA wins up to 20 — the most in PCA history.
Justin Timberlake did the honors of presenting Ellen with her record-breaking award.
He said,
Tonight her People's Choice Award total hits 20? I don't know how that's possible. Let's bring them all out.
Twenty men in tuxedos then proceeded to parade out Ellen's trophies on stage while some very dramatic music played in the background.
As JT pointed out, it was basically the opposite of subtle.
He jokingly asked Ellen,
Did you request that?
Turns out, she did not request that, but I wouldn't blame her if she had because those 20 statues did look pretty damn impressive lined up on stage.
Then Ellen took the stage to accept her 18th, 19th and 20th PCAs, for Favorite Animated Movie Voice, Favorite Daytime TV Host and Favorite Comedic Collaboration.
And who did she thank, profusely, in this historic moment? Mashed potatoes!
See, this is why Ellen is everyone's favorite everything.
Ellen said,
I was driving here tonight on the 101 — filled with people.  I got here like seconds before the show started — and I was thinking: I love mashed potatoes. Don't you love mashed potatoes? Oh my God. I forget about them sometimes. I should have them more often, especially when they're really creamy and there's no lumps in them. Just mashed potatoes, right? Anyway, I love mashed potatoes.
Honestly, she's so right. I don't think any of us have been giving mashed potatoes the credit they deserve for how amazing they are. I thank Ellen for using her platform to shed light on this important issue.
And yes, she did go on to thank the people for giving her this honor, blah, blah, blah.
She said,
This is amazing... Seventeen, I get it; 18, sure; 19, I can see that; but 20 is outrageous. This is really something that means more to me... because it comes from the people... You are the people who are responsible for me being up here, so I say thank you, people. The only thing that would make me happier — and not a lot happier, because this makes me happy — is if it was voted on by animals.
And then she went on to muse about which animals are smartest — primates, dolphins, that sort of thing.
Look, she's done this 20 times now. She's earned the right to spice up her speech a little with odes to potatoes and thoughts on animals.
Congratulations, Ellen! I hope you got to eat a bucket of mashed potatoes when you got home.
Citations: Ellen DeGeneres Just Became the Most Decorated People's Choice Winner in History (Pop Sugar)